When it comes to football boots, the Puma King has done it all – but the one thing it has never been described as is 'light' (well, at least by today's standards). Well, that all changes with the new Puma King SL.
Weighing in at 225g per shoe, 'Super Light' might not seem like the right way to describe the Puma King SL, especially compared to other, similar boots like the Mizuno Morelia Neo, and adidas 11pro SL.
However, what is worth your consideration is the fact that – whilst it's competitors use microfibres and synthetics in the midfoot and heel – the Puma King SL manages to skim just above the 200g mark whilst being almost entirely K-Leather.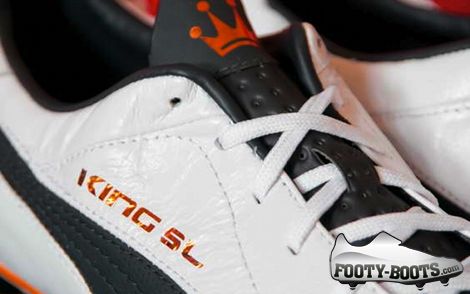 Already given the thumbs-up from Thierry Henry (who describes them unmodestly as 'the best boots [he's] ever worn', what else goes into making the Puma King SL so special?
The K-Leather used in the upper is more supple and thinner than that found on the current Finales, which not only reduces weight, but also puts even less between your foot and the ball.
The previously-trademark Puma King tongue has also been lopped off, saving grams and relieving most players the hassle they would have faced cutting it off, anyway.
Interestingly, Puma have now bonded their signature 'Formstripe' straight into the Leather, rather than stitching it over the top – giving you an idea of the attention-to-detail that went into making these boots so light.
Puma have also refused to compromise on their tried-and-tested King soleplate, utilising the same FG formation as the past few King incarnations.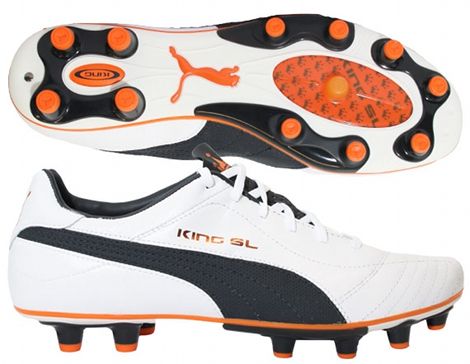 Having already been debuted in earnest by Thierry Henry, expect a full-scale Puma King SL invasion on the feet of pro's like Mikel Arteta, Kevin Doyle and Lee Cattermole in this White / Dark Navy / Team Orange colourway from this weekend onward.
What do you think of the new Puma King SL?
Live up to the hype? Or is that weight not Super Light enough in today's world of boots?
Available to order from Monday, expect to pay £160/$200 US for a pair of these new Puma football boots
PUMA KING SL – WHITE / DARK NAVY / TEAM ORANGE, 8.8 out of 10 based on 32 ratings