After an audacious launch colourway and a conservative secondary model, the 2013 Puma King is back with an absolutely stunning new incarnation: the Puma King – Black / Silver.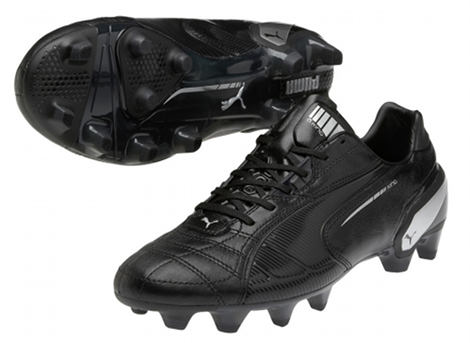 At the very start of the year, Puma brought us the incredible White/Silver evoSPEED 1  – and opposite ends of the Puma boot range deserve opposite ends of the chromatic scale with the Puma King – Black / Silver.
We've seen some exceptional colourways in the history of the Puma King, and this entry definitely deserves to be considered among the all-time greats.
Whilst famous (or infamous) for bright and bold designs like the evoSPEED 1 CM and PowerCat Gravity, the Puma King – Black / Silver strips it all back to what the King should all be about.
A line steeped in history, the 2013 Puma King is a boot of dualities; as well as being the boots worn by Pele and Maradona, today's King is worn by Yaya Toure, Michael Carrick and many more – it has to be both a classic for veterans and win over the next generation of young players.
Summing up what it's all about rather nicely, the Puma King – Black / Silver is the all-black classic that traditionalists crave, whilst looking sleek enough to win over the most Fireberry-obsessed football fashionista.
As always, black makes the calf leather on the upper look exceptionally soft, supple and ready to be broken-in on the pitch. The specially-designed vamp and 3D-texture design on the tongue allow players maximum control on the ball, whilst the heel and soleplate increase stability and protection.
On shelves now, you can pick up the Puma King – Black / Silver for £105.99 on the Footy-Boots.com UK store, now.
PUMA KING – BLACK / SILVER, 8.7 out of 10 based on 32 ratings