In a week that has already seen the release of one sumptuous Puma King limited edition, the Big Cat have revealed a couple more, but these are on a whole different level to the Top Italia.
Produced to mark half a century of excellence in design, fashion and evolving to meet the needs of athletes of every discipline, Puma have collaborated with legendary English fashion house Alexander McQueen to create a pair of football boots par excellence.
https://www.youtube.com/watch?v=rNtuI-eSe0s
Long-time partners in mashing up the worlds of fashion and sports lifestyle, the Puma King by Alexander McQueen epitomises that symbiosis with two boots that characterise what sport offers fashion and vice-versa.
The first is traditional in every sense; hand-crafted in Italy out of the finest materials money can buy, each boot is assembled with love and character by artisans in a small-batch workshop.
In the shade of chestnut brown normally reserved for the sort of shoes that people never throw away, each shoe features a very traditional soleplate, chunky stitching to accentuate the Puma FormStripe and the Alexander McQueen name melded with the iconic Puma King logo on the tongue.
The piece de r©sistance is the individual numbering on the heel in place of the Puma logo – with each of the seventy pairs produced numbered by hand.
Then, bringing a touch of high-fashion to football, the second variant is this fish-skin model, decked out in metallic gold.
This more delicate material brings a touch of finesse to the King silhouette, with all the branding flattened out to single panels of gold; something we particularly like, as it seems to suggest you should already know what these are: we don't need a logo.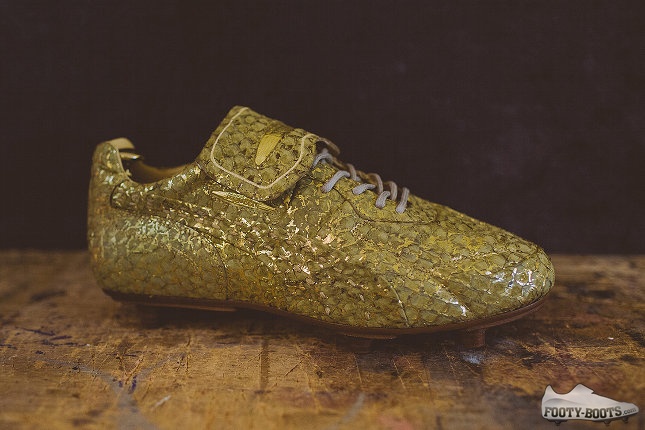 Even more scarce than their leather siblings, the Fish Skin Puma King by Alexander McQueen are limited to just thirty pairs worldwide.
Oh. And you may never see a pair in the flesh; these are being reserved for family, friends, designers and athletes in the Puma roster.
We envy them all.
What do you think of these football boots?
Let us know in the comments!