After their special edition v1.815 Ferrari launched a few years ago, Puma's motorsport-themed releases are definitely in a class of their own – which is why we were so excited to hear about the Puma evoSPEED 1 SL Ducati!
Every bit a performance football boot, these aren't a keepsake that should be handled with gloves and kept behind a velvet rope – they're built to tear up the pitch!
Since establishing their evoSPEED brand with the help of players like Aguero, Falcao and Toure, there can be no questioning Puma's speed boot credentials – but the Puma evoSPEED 1 SL Ducati' takes it to the next level.
Tipping the scale at a tidy 158g, the Puma evoSPEED 1 SL Ducati' fractionally beats out the Nike GS for the title of lightest boot release this year – definitely earning that 'SL' super light tag!
Designed in conjunction with Italian motorcycle manufacturer Ducati, the Puma evoSPEED 1 SL Ducati' is built to' visually encompass the rich heritage of the famous brand, tying it in to the innovations Puma have pushed tot he fore over the last 12 months.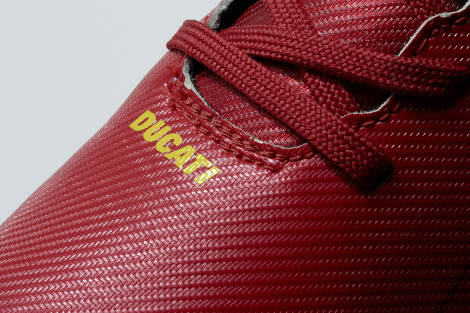 In acknowledgement of Ducati's famous colours, the Puma evoSPEED 1 SL Ducati' is designed in red with white Formstrips on the sides. The boot features a Ducati wording on the upper and an additional Ducati shield on the heel.
The super light Pebax outsole provides stability and support, whilst a carbon fibre insert in the midfoot area minimises weight and maximises its flexibility and reactivity. The evoSPEED 1 SL Ducati features the unique PUMA AptoLast which provides an industry leading fit and mimics the natural shape of the foot.
śPUMA and Ducati are both strong and emotive brands with a lot of history of innovation and technology, which makes this product collaboration a great initiative,ť commented Terence Parris, Head of International Marketing Teamsport at PUMA.
ĹĄAs Ducati has such a strong association with speed, the brand is a perfect partner for our successful SPEED silo in the football category. We are really excited to enhance the partnership with Ducati by creating a product that offers such synergy.ĹĄ
Available exclusively via select retailers in Denmark, Sweden, UK and USA, the Puma evoSPEED 1 SL Ducati' will be a rare item to get hold of – will you be picking up a pair?
Let us know in the comments!
PUMA EVOSPEED 1 SL DUCATI, 9.6 out of 10 based on 27 ratings