After a successful launch of the new generation of evoPOWER yesterday, PUMA are kicking on in style with a brand new colourway for their lightweight football boots to match; the PUMA evoSPEED 1.3 – Bright Plasma / Peacoat.
Almost a perfect inversion of the colours used on the evoPOWER 1.2, the new evoSPEED 1.3 – Bright Plasma / Peacoat takes an altogether more extrovert approach with the palette, creating a boot that is definitely designed to stand out on the pitch.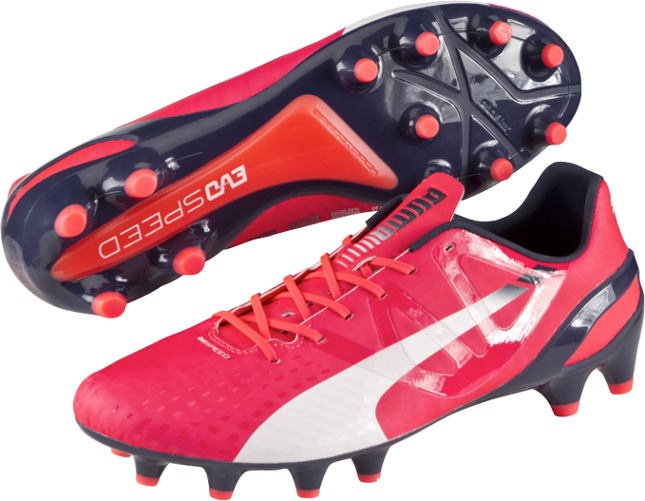 A bold reddish-pink, the latest evoSPEED 1.3 colour-up has a decent level of pop, with the white branding on both sides of the boot a particular standout, along with the blue 'peacoat' soleplate and detailing.
Set for an on-pitch debut this week, players looking forward to lacing these football boots up include Sergio Aguero, Marco Reus and Falcao – you might have even clocked Liverpool's Adam Lallana in this fresh update as his side hosted Chelsea in the League Cup semi final last night.
What draws these top players to the PUMA evoSPEED 1.3? Well, as you can guess from the name, these football boots are tooled to be lightweight, and compliment all the attributes that nippy players rely on, on the pitch.
The Microfibre upper on the PUMA evoSPEED 1.3 – Bright Plasma / Peacoat is super-soft, with any excess bulk stripped back to allow for a minimal feel whilst still being comfortable and supportive.
This is complimented by a GripTex finish. One of PUMA's exclusive technologies, Griptex is a 3D-print finish that adds extra grip when making contact with the ball, for added control in all weather.
Towards the rear of the boot, you'll also notice the EverFit Cage EXT. This external support structure links the lacing system and the soleplate to lock the foot into the boot for superb energy transfer and a secure fit.
The sole of the boot is also kitted out with all it needs to give fast players the confidence to be at their fastest. The conical studs are anatomically placed and designed to offer superb ground penetration.
In the forefoot, Duoflex system allows the studs to move with the natural motions of the foot for better traction, whilst a SpeedTrac system in the heel improves stability and adds another level of support.
All this is constructed out of the lightest possible materials, to create a boot that weighs just 180g / 6 oz US.
Dropping on February 2nd in retail stores, you can pre-order the PUMA evoSPEED 1.3 – Bright Plasma / Peacoat on the Footy-Boots.com store, now.
PUMA evoSPEED 1.3 | Bright Plasma / Peacoat, 9.2 out of 10 based on 13 ratings