Puma evoPOWER fever has been in full swing since the retail launch of the boot at the start of February, with players and punters alike excited by the prospect of a new approach to a 'power' football boot.
To mark the retail launch, our friends at Puma sent us a mysterious package in the post, containing one of the sought-after presentation boxes for their latest release.
In a moody all black with pops of white and the 'fluo peach' used on the upper of the evoPOWER, the monolithic presentation box is delightfully minimalistic on the outside.
On each flank are die-cut silhouettes over a pop-art-style graphic of the foot, obviously referencing the Puma evoPOWER's ingenious design of maximising kicking power by taking inspiration from the bare foot.
The mantra on the top of the box ushers in an area of 'unbelieveable football', whilst extolling the benefits of the evoPOWER, and dropping in the #StartBelieving hashtag that Puma launched in January.
Inside, however, the box is a much more colourful affair than the exterior, with the lining again in the eye-catching fluo peach.
The same yellow used on the Exo everFIT cage coats the bottom of the box, with pre-cut slots for each of the boots studs for optimum show-off presentation.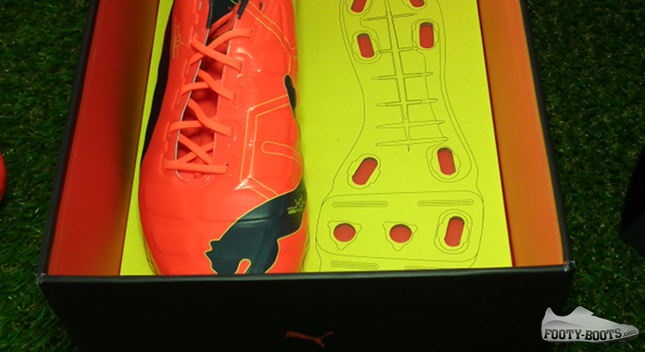 The inlaid graphic also mimics the revolutionary features of the evoPOWER's soleplate, which brings in the Graduated Stability frame that is so important to the barefoot kicking concept at the heart of the evoPOWER.
We've already unboxed Puma's latest in one of our signature videos last week, so if you're thinking of picking up a pair, consider that a must-watch.
And, if you're set on buying some why not knock 10% off the price by using coupon code 'FBOOTS10' on StartFootball.co.uk?