PUMA won no shortage of new fans with the launch of their new evoPOWER silo in 2014 with an aggressive push that basically said everyone else had been doing 'power' football boots wrong for decades.
The German brand's theory was kicking power could be maximised by allowing the foot to flex naturally – and whilst that's something that's tough to quantify, players certainly appreciated the comfort and overall performance of these latest football boots.
Now the question is – can they build on that? We slipped on the PUMA evoPOWER 1.2 in our latest review to find out.
Comfort // Fit – 5/5 : Still a solid option for wide-footed players.
As mentioned in the preamble, the PUMA evoPOWER 1 won many plaudits for simply being so gosh-darn comfortable, as well as being an exceptionally viable option for players with wider feet.
The flex of the shoe and lightweight design of the last model translate onto the PUMA evoPOWER 1.2, however the upper on the boot is a little stiffer out of the box on first wear.
The result is a trade-off; for most players this will result in a more responsive, more supportive fit. However, for players with the widest of wide feet, you might find the 1.2 needs a little more break-in time compared to the original.
It's also well worth a note that these football boots use PUMA's anatomical last – so if your feet have an exceptionally pronounced second or third toe, you might want to look into going half a size up to compensate.
Feel // Touch – 3/5 : Not leathery-soft, but the new features definitely help
As mentioned in our comparison video, the evoPOWER 1.2's Adap-Lite upper does lose a little of that exceptionally pliable, gel-like finish that it's predecessor has.
That said, it does loosen up significantly over time, and we definitely appreciate the fact that the new GripTex finish offers a definite boost in ball 'feel' in wet weather.
You're not going to get as soft a touch on the ball as a natural leather, but in terms of synthetics the evoPOWER 1.2 offers up a similar level of touch to the PUMA evoSPEED 1.2 and 1.3, Mizuno Basara and Magista Opus.
Also a boon is the new layout of the AccuFoam cushioning across the upper. Whilst it's now thinner than ever it's also more consistent and creases nicely with the foot.
Looks – 4/5 – Future-tech aesthetic adds flair without going overboard
It's 2015: if you're making a feature-packed football boot, there should be no shame in adding some design cues that make the boot look futuristic.
The danger is when designers go overboard, and leave a boot looking like the back of the DeLorean in Back to the Future II.
Here on the PUMA evoPOWER 1.2, PUMA have used sublimated graphics and a smart Peacoat / Bright Plasma colourway to keep things tasteful.
Maintenance – 3/5 : A few nooks & crannies, otherwise easy to keep at their best
As with it's predecessor, during our review time with the PUMA evoPOWER 1.2, the boot proved easy to look after, with the synthetic upper and dark colourway proving a winning combination in the 'keep it clean' stakes.
However, the Gradual Stability Frame in the outsole is something of a dirt-trap on just about any surface. Thankfully, it doesn't take any great effort to free it again.
One area concern that is shared by both the last two evoPOWER and evoSPEED football boots is the lack of a toe-guard at the very front of the show, giving us some concerns over the long-term durability in this high-abrasion area.
If you play most of your game on synthetic turf, consider a little adhesive to protect this part of the boot.
Performance – 5/5 : Does exactly what it says on the tin box.
One reason why the fit of the evoPOWER has changed a little between generations is the new layout PUMA have used on the interior of the boot.
Rather than an all-over inner liner, PUMA have left the interior of the evoPOWER 1.2 somewhat more exposed. The result is a more satisfying strike as your feet connect with the ball – so even if your shot power isn't amplified, it very much feels like it.
This has also allowed the new AccuFoam layout to work with the lacing system for a support-cage-like effect, so players can expect a more lockdown fit and assured touch on the ball when controlling and passing the ball.
As you would expect from the unchanged outsole, traction and stability in this area are very much unchanged; but that's no bad thing. Stud pressure is minimised and the free rotation under the ball of the foot is very welcome.
Value: 3/5 – More or less the going rate for a top-tier release
As always, with the average pricetag for a 'statement' release from one of the boot-game's biggest players is around £150, and that's pretty much what PUMA have the RRP of the evoPOWER 1.2 set as.
This evoPOWER definitely feels more well put-together on foot, and as long as you're not dragging your toe along synthetic turf every week, we'd definitely say there's at least a season to be had out of these football boots.
Overall: 23/30 – A solid follow-up to one of the best boots to come out last year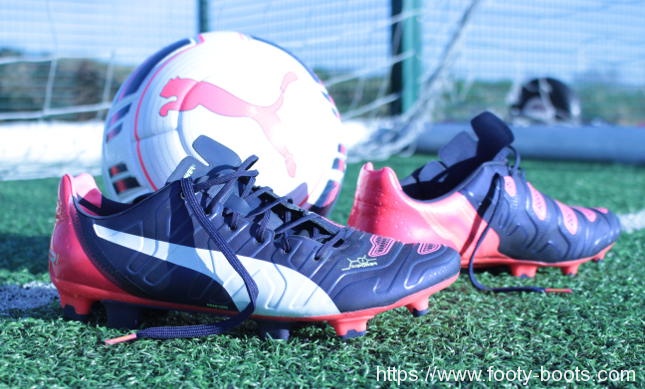 When it comes to the evoPOWER, it would have been easy for PUMA to make a sideways move; a re-skin or re-paint would definitely have kept the evoPOWER 1 going for at least another year.
But, the evoPOWER 1.2 does change up the formula, with a more supportive, lockdown feel that will make this range an appealing prospect for plenty of players of just about all positions.
It might not be a caveat-free recommendation to players with super-wide feet any more, but they're a solid step up from the Big Cat on their most exciting range of boots.