After releasing only white-out and black-out editions of the evoPOWER 1 in Leather, the dons at PUMA are taking a different tact altogether with the evoPOWER 1.2 Leather.
From release, the PUMA evoPOWER 1.2 will be available in the Peacoat / Bright Plasma launch colourway, as PUMA look to give players a little more choice on launch day.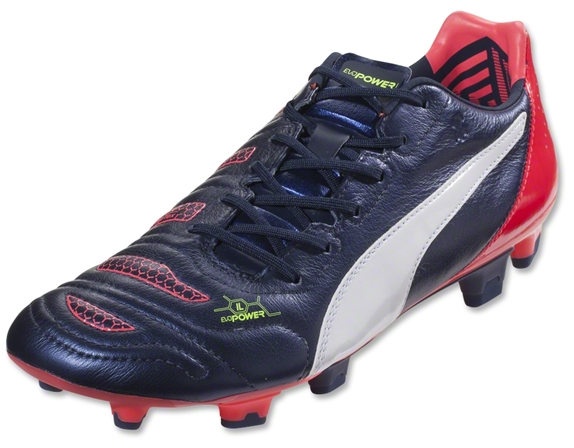 What does the leather edition of these football boots offer? Well, for starters the AdapLite upper has been completely replaced by a premium calf leather, for a natural touch and feel on the ball.
This option has already proven popular with some of the players in the PUMA evoPOWER line-up; Italian international defender Giorgio Chiellini and Liverpool's Mario Balotelli have both shown off the leather evoPOWER on their social channels.
Despite not working with synthetic, PUMA have engineered the AccuFoam pods that characterise the evoPOWER on to the leather version.
Place identically to the synthetic edition, the Accufoam is housed between the leather upper and internal liner and help in place with the stitching you see on the upper.
One of the stand out new additions to the evoPOWER 1.2 over the first generation is the GripTex finish – and again, PUMA have managed to work this in to to the 1.2L's arsenal placing it over key contact points and strike zones.
Along with these similarities between the two variations, the PUMA evoPOWER 1.2L – as you would expect – retains the same outsole.
The Gradual Stability Frame sits at the heart of the design, allowing the boot to flex both upwards and downwards at the forefoot, whilst offering rigid stability in the midfoot and heel.
Speaking of stability, the PUMA evoPOWER 1.2L also packs the same traction system as the synthetic model, with conical and bladed studs providing targeted grip on the turf.
As well as the new upper system, the evoPOWER 1.2L also has a difference in price to the synthetic version, costing £10 more in the UK and $20 more in the US.
Which version would you consider?
Let us know in the comments!
PUMA evoPOWER 1.2 – Leather, 9.7 out of 10 based on 20 ratings