Football Boot brand Puma has released its 'Until then…' video viral which will spearhead its v.108 football boot marketing campaign during the African Cup of Nations.
The futuristic, animation led campaign will feature as part of Puma's sponsorship of Eurosport's television coverage of the African Cup of Nations football tournament. The African Cup of Nations kicks off this Sunday in Ghana, before concluding on February 10.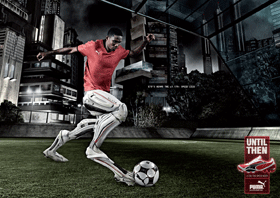 The football boot brand's "Until then!" campaign positions the new football boots as an extension of super human powers – the concept being that until humans have bionic powers, the v1.08 are the best football boots available for on-field performance. The video viral features Puma brand endorsees Samuel Eto'o, Peter Crouch, and Freddie Ljungberg.
View the "Until then" video and the "Until then" behind the scenes video on our Football Boots TV player.
Click here to read about the Puma v.108
Click here to order the Puma v.108