Portsmouth's players are still owed their December wages although the club says it hopes to pay them sometime on Wednesday.
The club was hoping to clear its debts to the playing staff on Tuesday but having secured a bank loan it failed to complete the paperwork in time to release the funds as planned.
It's the third time this season that wages have been delayed, although the club did pay their non-playing staff on Monday.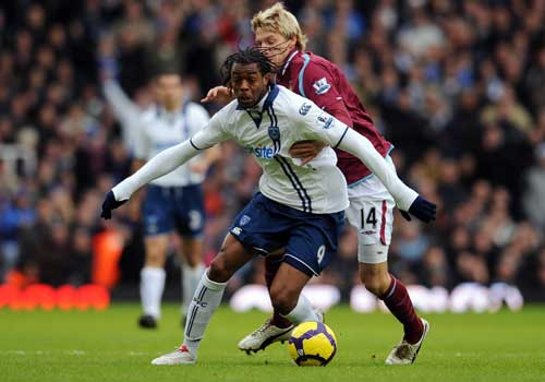 Frederic Piquionne is among the players still to receive any pay for December
Portsmouth, who are bottom of the Premier League, will also be hit by the decision of the Premier League which has decided to use Portsmouth's share of the latest television monies to pay off the club's debts to other top-flight sides.
Chelsea, Tottenham and Watford are all owed money by Pompey and the Premier League will split £7m between them.
The action is allowed within league rules to protect clubs who are owed money from transfers.
In another blow the South Coast club has been told that Jamie O'Hara will not be allowed to stay at Fratton Park. The midfielder is on loan from Spurs, a deal that Portsmouth wanted to extend. But the midfielder is due to return to White Hart Lane on 15th January, and with an embargo in place, Pompey cannot re-register him with the Premier League.