We've seen it plenty in the football shirt world recently;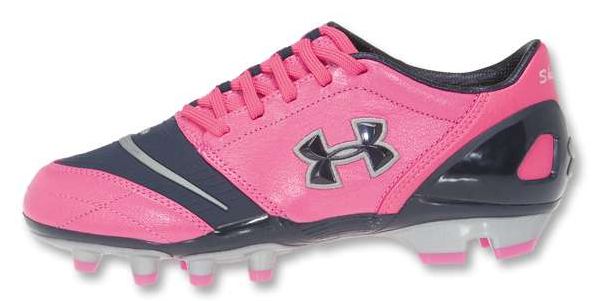 Football teams from Everton to Oldham have been offering limited edition 'Pink' versions of their iconic shirts to raise awareness for Breast Cancer.
However, this is the first time ever (that we can think of) that a whole football boot has been pink-ified (real word?) in aid of this exemplary good cause!
Under Armour have given the usually mean 'n' moody Dominate Pro a fabulous makeover for this limited edition run of boots – in which 100% of the profit from every boot sold will go be donated to the fight for a cure and breast cancer awareness through the Kicks Against Breast Cancer program.
Heather Mitts in the Dominate Pro, far left
At the helm of this campaign is USWNT & Philadelphia Independence defender Heather Mitts – who will be wearing these striking boots from this Sunday in the Independence's home game against Washington Freedom.
On the heel of each boot is the phrase 'She's a Fighter' as a tribute to all the women who struggle each day with the disease that affects 1 in 8 women – and the sole plate features the mantra 'Power in Pink'!
We know from the Facebook page we've got a lot of ladies who read the site – so if you're in the market for a new pair of football boots to ring in the new WPS season – why not consider these?
As well as backing a great cause, you're be getting full-grain, water intelligent leather, Under Armour's proven-protection MPZ and one of the most comfortable boots you're likely to step in – it scored highly in our football boots test too!
Price: $99.99
Receive exclusive content and the latest football boot news. Just click onto Facebook or Twitter.com/Footy_Boots to join the leading community for footballers who care for what they wear!