The MLS finished it's regular season games this weekend, seeing New York Red Bulls and LA Galaxy crowned the Champions of the Eastern and Western divisions respectively – but it also marked the end of Breast Cancer Awareness month, which has been the focus of the MLS Works charity.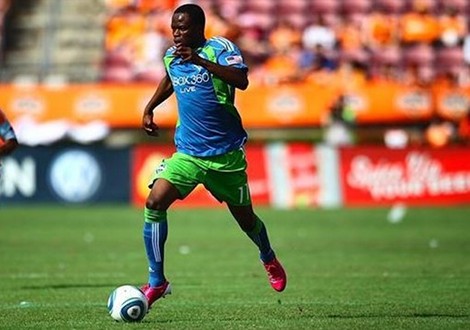 Sounders FC's Steve Zakuani dons his pink adidas F50 adiZero football boots
We thought this story deserved another mention after the great response we had to the story that 3 of the MLS's top players would be taking to the field this final weekend in some special Miadidas Pink adiZeros.
The bright football boots seemed to bring a bit of bad luck to the players wearing them though, as Steve Zakuani, Brek Shea and Danny Mwanga all found themselves on the losing sides of this weekend's match-ups, and none of them were able to find the net.
It was also the last time that the adidas will use the limited edition pink Jabulani football, which has been in used around the MLS since the start of October.
The light-coloured ball features the logo of the MLS works charity combined with a Breast Cancer Awareness Pink ribbon, and many of the balls used will not be auctioned off to further raise funds for this great cause.
Finally, on a lighter note, we stumbled across this excellent football boots-based celebration, as Columbus Crew striker Emilio Renteria found an interesting use for his Blacked-out Tiempo Legend III's…
Whilst it's hardly the most sterling display of sportsmanship you're ever likely to see, it's certainly good for a laugh – we're writing to the developers of FIFA trying to get this put in the celebrations instead of 'The Robot' ASAP!