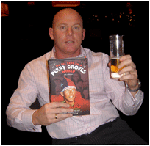 At Footy Boots, we are often asked to compare and contrast different makes of football boots, to recommend boots for certain tasks – shooting, passing, volleying etc, and to provide advice on value for money and overall boot quality.
So much so that in fact, we've recruited another member of staff to keep us on top of all the new football boot technology and design.
Unlike most of the Footy Boots crew who as players could be best described as enthusiastic amateurs, we've taken on a footballing legend, Perry Groves.
Still a fans favourite at Arsenal, Groves was the first signing made by George Graham when he took over at the London club in 1986. The following season, Groves set up the winning goal in the League Cup final against Liverpool and he was part of the team that won the league title in 1989 and 1991.
Starting next week, Perry will be testing out various football boots including the SprintFit, AdiPure, Tiempo Legend II, V1.08, Nomis Glove and the SX Valor and you can see the results in video form right here at Footy Boots.
In addition, Perry, who has been forging a successful media career particularly with Sky Sports, will become a regular Footy Boots columnist and will tackling the major issues facing the game today.
Perry said "I am delighted to be joining Footy Boots and I look forward to testing out and trialling the modern football boots of today. I hope the videos prove entertaining and informative and that I get to keep all the boots afterwards!" Best keep an eye out on eBay then.

Perry Groves fact file
Born: April 19th, 1965
League Clubs: Colchester United, Arsenal & Southampton
Honours: League Title 1988/89 & 1990/91, League Cup 1987