We asked the inventor of the adidas Predator, Craig Johnston, how to go about choosing the right football boot.
Now, you'd think that former Liverpool star Craig Johnston would probably vote for the Predator as the ideal football boot, especially as he dreamt it up. But no, the revolutionary designer was totally impartial when he gave these pointers as to what you should look out for when spending your 'hard-earned' on a new pair of football boots.
6 Tips – Choosing the Perfect Football Boot
1. What conditions are you playing in?
First of all are your football boots for winter or summer use, are they to be studded or rubbers? It sounds silly but if you don't think it through you may end up with the wrong pair of football boots for the conditions, always a good player's nightmare. Ideally, all serious players must have a great pair of interchangeable studded shoes, a great pair of rubbers (moulded) or bladed, and a great pair of indoor or astroturf boots.
Different boots, for different surfaces and conditions.
2. What are they made of?
This is fundamental to your choice of football boot. Leather is still my favourite but some synthetics these days are very acceptable and have some interesting properties. Beware however as some synthetics at the lower price points are counter-productive to a good feel of the ball, they make you feel like you are wearing a pair of galoshes (a rubber boot that is slipped over shoes). On top of this some synthetics have no breathability, so your feet get very clammy very quickly.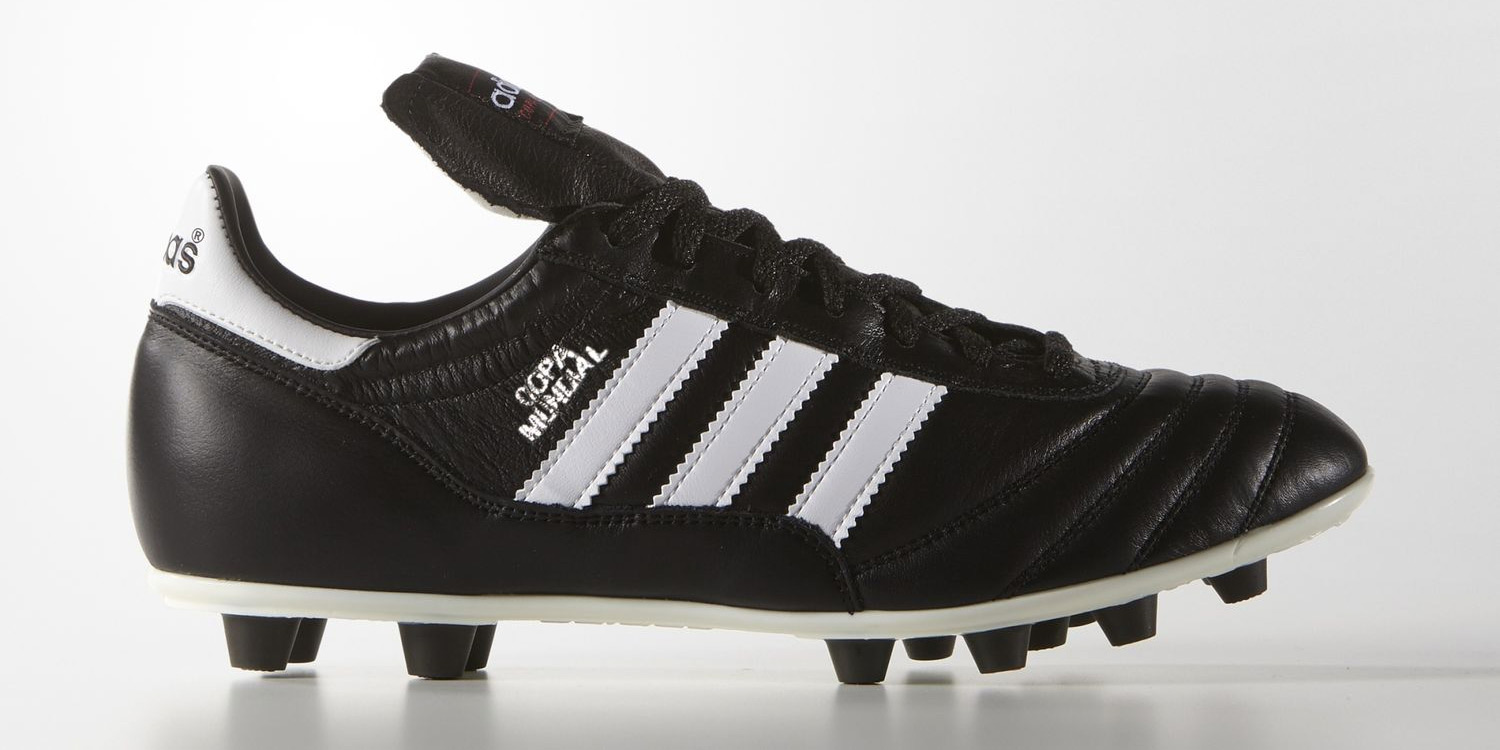 3. Comfort and craftsmanship
Comfort is a given. If they are not comfortable, don't buy them. Good simple craftsmanship always wins for me over garish fads and gimmicks, and there are lots of them these days – yuk.
Fads and Gimmicks: The Serafino Edge
4. Lightness and suppleness
Lightness and suppleness are are always key indicators if a shoe is well made. The perfect football boot is always rigid where it needs to be but flexible elsewhere. It is always stiff from toe to heel and supple width ways, where the foot naturally bends.
Flexible soleplate: Puma evoPOWER
5. Cleat concept
Again, what players want from a sole plate is more of what they do naturally, therefore the manufacturers will promise more grip, more thrust, more turning traction, less mud clog and more easily changeable cleats.
The stud or cleat concept, shape and positioning are really important, as well as the ability to quickly and easily change the height of the stud.
What's often overlooked but important to me, is the feel of the studs underneath your hot spots. You should ask yourself, what is the stud placement and layout concept, are they comfortable? If not, wait till you have gone 90 minutes with them on a dusty dry pitch in summer and see how red-raw your feet will be.
Soleplate: The shape and positioning of studs is evolving
6. Value for money
I am not going to name names, but quite often a manufacturer who has some proprietary technology at the top end football boot will pull this technology down to a lower price point to make a better shoe at a lower price. This is good value.
Other manufacturers will make up a gimmick, name, colour or performance concept to just hit that price point. Not good. So shop around, use common sense, and try to see which brand is full of it and which brand and football boots are the real deal.
Value for money: The NB Visaro costs £135, not cheap, but good value compared to other performance level boots.
Craig Johnston, was a Liverpool footballer from 1980 to 1988. Craig invented the Traxion sole, used on many football boots. He also designed the Predator Adidas football boot used by the likes of David Beckham and Steven Gerrard.
Craig Johnston:
For me to be asked to be an ambassador for Footy-Boots.com is quite an honour…