Real Madrid star Mesut Ozil has become the talk of the boot-o-shpere this morning after playing in the adidas Predator LZ whilst in action for Los Blancos last night.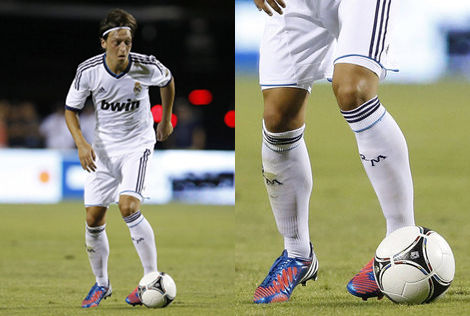 Real faced Santos Laguna in a glamour friendly in Las Vegas as part of their pre-season tour last night, with Mesut Ozil lining up within a strong Madrid XI in the sweltering heat.
And whilst Ozil's performance was one he'll likely forget, boots-fans will definitely remember the occasion for a good long while, as 23 year-old switched his Nike Mercurial Vapor VIII's for the new adidas Predator LZ.
German international Ozil has been a posterboy for the Vapor line for the past few seasons, having been one of the first to tease the launch of the new Vapor VIII and a key face of the 'My Time is Now' summer campaign from the American brand.
However, in his time at Schalke, Ozil was a prolific Predator wearer, often pictured in the Predator PowerSwerve – though given this was when he was only 17, there's a good chance he received his Predators through adidas' position as kit supplier to Schalke.
One of the most interesting caveats to the former Werder Bremen's suspected switch is that he was spotted wearing the Clash Collection Vapor VIII in an open training session at UCLA before the game, which could makes speculation as to whether this was a one-off occurrence even harder.
Ozil Training in his Nike Cleats ahead of the Game
As Ozil's Facebook page is still decked out in Nike imagery, we'd have to guess that either Ozil had a Thierry Henry-style mishap were his boots didn't make it off the plane from LA to Vegas, or there was some freak durability issue with his boots that meant he had to hop into a pair of Predators (which, as an adidas-sponsored team, Real Madrid are likely to have at hand) – which would likely mean a hefty fine from Nike for the midfielder.
Or this really is the switch of the summer!
Ozil's exceptionally passing ability makes him a great fit for the new Predator LZ, and as a German international, there's no doubt that adidas would love to snag a triple-threat player who wears the three stripes for club, country and on his boots.
Needless to say, we'll be keeping an eye on Ozil in training – but do you think this could be a permanent switch for Ozil?
Let us know in the comments!
Special thanks to Ali O for posting this spot up on our Facebook page!