Some of the best football players ever to grace a pitch have shunned the likes of Nike, adidas and Puma when it came to their football boots – which is why we've assembled our 'Other Brands' Greatest XI.
We've had some tough decisions to make when it came to this list as many of the greatest footballers in the post-war era had their own brands of boots, or signature cleats with smaller footwear brands.
Which is why we've set a rule that in order to be included in this all-star XI, the brand still has to exist today; so big apologies to the likes of Sir Stan Matthews and his Co-Ops and Georgie Best and his Stylos (they might be a list for another day!)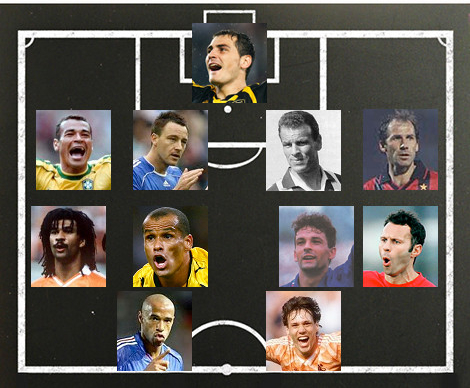 Goalkeeper
Iker Casillas – Reebok football boots
Captain of Spain's 2010 World Cup winning side, current holder of the FIFA Golden Glove and one of Real Madrid's most capped players at just 27 Casillas is one of the few still active players in our squads to have the plaudits to prove it.
Taking the Real Madrid number 1 shirt at just 21 the Reebok endorsee is widely regarded as one of the best stoppers in the word at the moment; and given his list of honours we're not going to disagree!
Defenders
Cafu – Lotto football boots
Tireless Brazilian right-back Cafu redefined what it means to play in defence throughout the 90's. Whilst using his pace to quickly close down attackers and mark wingers out of the game, what made Cafu most famous was his overlapping runs outside the midfielders.
Cited by the likes of Ashley Cole as the inspiration for their style of play, two-time World Cup winner Cafu is still inspiring defenders today.
John Terry – Umbro football boots
A controversial inclusion if ever there was one, Terry is a player who is maligned over his off-field antics, rather than being praised for his actions on it.
JT's speciality of last-ditch heroic tackles, as well as his aerial prowess, Terry led his beloved Chelsea to a historic double last season. Terry has been in the FIFPro team of the year for the last 5 years running and the UEFA Team of the Year for the last 4.
John Charles – Pantafola D'oro football boots
The Big Welshman, John Charles is one of the most versatile players ever to have played the game – equally at home at centre back or centre forward.
Legend has it, that it was during his time at Juventus that he was introduced to the Pantafola D'oro brand. 'The Golden Slipper' quickly became a favourite with the Gentle Giant who immediately fell in love with the Italian craftsmanship and sumptuous leather upper.
Franco Baresi – Asics football boots
One quarter of the legendary 90's rosseneri back-four, Baresi is without a shadow of a doubt one of the best living defenders.
3-time Champions League winner, Baresi spent his whole career at AC Milan racking up 719 appearances for the club – capturing 6 scudettos.
Midfielders
Ruud Gullit – Lotto football boots
Gullit's experience as a footballer is neigh-on unparalleled, having played for some of Europe's biggest clubs (Feyenoord, AC Milan, Chelsea) is a multitude of positions (sweeper, centre midfield, winger, striker).
Gullit's list of honours reads just as impressively, having claimed the Ballon D'or in 1987, 2 Champions Leagues, 3 Serie A titles and the FA Cup – not to mention that Lotto chose him to debut the Lotto Stadio 90, their top-level boot for the Italia 90 World Cup.
Rivaldo – Mizuno football boots
Former FIFA World Player of the Year Rivaldo has been a fantastic ambassador for Mizuno, who have in turn, been very good to him!
One of the few Mizuno footballers to have had his own signature range of football boots, the Wave Cup Rivaldo were one of the few retail boots to have a hybrid soleplate – definitely worthy of one of the greatest playmakers of our era!
Roberto Baggio – Diadora football boots
Upon hearing the name Roberto Baggio, many will immediately think either "naff ponytail", "naff beard" or most likely "naff penalty" – which is a definite shame as Baggio is one of the Azzuri greats.
Despite his relatively sparse honours list (Baggio only won one major European honour and two Domestic crowns) Baggio's record of 318 goals in a career of nearly 700 games should tell you how prolific Baggio was.
Ryan Giggs – Reebok football boots
The single most decorated player in English football history, the first player to collect 11 Premier League Winners medals and the only player to have scored in all 19 seasons of the Premier League since it's inception.
There's no doubting Ryan Giggs' footballing credentials, but if there's one thing that really impresses us, it has to be his loyalty – not just to Manchester United' – but to Reebok. we'd find it hard to believe that no other brand has come knocking for Giggs, but after 21 seasons at the highest level, Giggs still uses Reebok for his football boots.
Forwards
Thierry Henry – Reebok football boots
Thierry Henry might well be 'seeing out' his career in the states, but that doesn't diminish the fondness with which fans remember to lighting fast French forward.
Henry's scoring record with Arsenal was 174 goals in 254 games, bagging 2 Premier League titles and four golden boot awards – as well as a World Cup – gives Henry an enviable honours list, and a sure-fire entry as one of the most feared attackers in the game. Jaime Carragher still has nightmares about him!
Marco Van Basten – Diadora football boots
One of the great strikers of the 80's and 90's van Basten was a striker to be feared. Physically a match for any defender at 6'2 and with a knack for grabbing goals out of skill and sheer perseverance.
Despite his career being cut tragically short by injury, Marco van Basten won 3 Serie A titles and a European Championship, as well as being named the FIFA World Player of the Year in 1992. Finishing his career with 280 appearances to his name, van Basten scored an unbelievable 218 goals in his time with Ajax and AC Milan.
This is just our dream team, and this was the toughest to pick of the lot! Who would be in yours? Shearer with Henry up front? Casillas out for Schmeichel? Mix it up and change formation, push players a little out of position and post them in the comments below!