First contact
Uefa are correct to overturn the ban on Arsenal striker Eduardo. As was argued in this column recently, how can it be right to punish one player for what many others do week in week out. However, the reason for this change of heart is wholly unacceptable. Arsenal say their appeal was successful after they proved to Uefa that there was contact between their player and the Celtic goalkeeper. So what? Don't the rules of football say that penalties and free kicks should only be awarded only if a foul has been committed? The amount of contact between Eduardo and Boruc wouldn't have brought down an inebriated daddy-long-legs let alone an international footballer.
The word 'contact' has long been used, particularly by sycophantic TV companies, to excuse players crumpling to the floor after the slightest nudge. Additionally, it allows attackers to invite contact, particularly when attempting to round a goalkeeper…..something they could easily avoid if they so wished. So, let's banish this awful word from the game once and for all.
X-rated Emmanuel
Once you look at the film of Emmanuel Adebayor planting his adidas F50i in to the kisser of Robin van Persie, you'll understand why the FA has charged him with violent conduct. It doesn't look good. Strange then that his manager Mark Hughes is trying to defend him. Hughes insists that there was no malice in the challenge (highly questionable) and that the Togo international had suffered a tremendous amount of personal abuse from visiting fans during the game (irrelevant).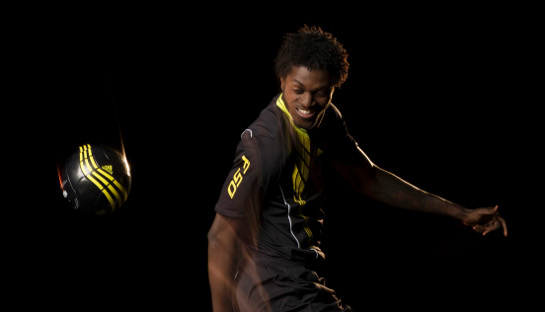 Surely Hughes has seen the footage like the rest of us. While understanding the reasons why managers sometimes stick up for their players, on this occasion, Hughes should grasp the nettle, admit Adebayor was in the wrong and publicly admonish him.
In the red
Uefa president Michel Platini has got his way over plans to stop club's spending above their means. While he says it will help clubs who are involved in Uefa competitions, it smacks of trying to break the dominance of English teams in the Champions League. Starting from 2012 / 13, clubs could be banned if they spend more than they make from their revenues.
So, it'll be interesting to see what Mr Platini makes of the accounts of one his favoured clubs Real Madrid. Conservative estimates suggest that as of now, they are £500 million in debt. Let's ban them now shall we?
TV no-show
England have qualified for the World Cup finals with two games to spare after winning eight from eight under Fabio Capello. You'd imagine that the interest and support for the national team would be at an all time high. But according to TV big-wigs, you'd be wrong.
As yet, no-one has picked up the rights for England's next game, away to Ukraine on 10th October. As it stands, we'll be forced to watch the match on the internet, probably having to pay a few quid for the pleasure. That can't be right, can it?