We've seen some weird and wonderful boots over recent weeks, the Nike Mercurial Vapor Berry, David Beckham's Adidas Predators but we haven't seen anything like this – the Nomis NXGEN Spark.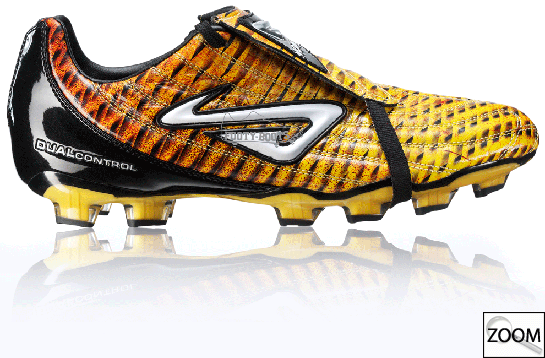 Nomis has a new innovative technology at its disposal – small runs of customised designs direct onto the leather surface of the football boot under the patented Dual Control grip enhancing treatment.
In the past it has been fairly easy to manufacture designs onto synthetic leathers, but only at a screen printing quality. Now a fully digitised hi-resolution design can be incorporated onto the Nomis K leather upper, allowing freedom of design on the best performing and sustainable material for football boots. This beckons a new era of you the athlete becoming a co-designer with Nomis.
The technology was developed over the last few years and was trialled extensively to ensure that new technique could stand up to demands of competitive football. And it does.
Naturally Nomis are playing their cards close to their chest on this, but the process is said to be quite revolutionary in the way that it is incorporated into the tanning process, with concepts utilised from four different chemical industries to create the final product.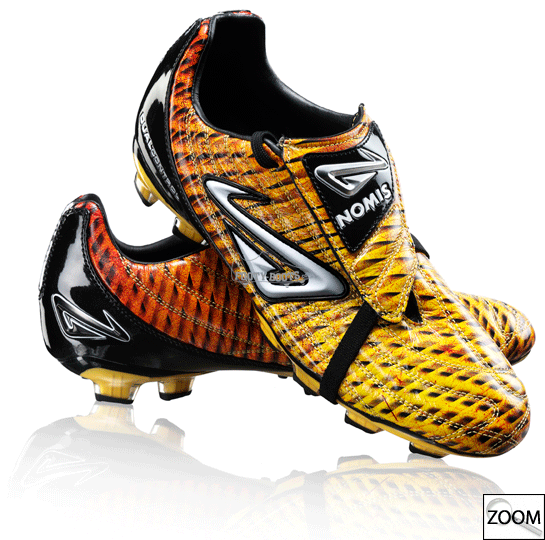 More limited designs will be launched throughout 2009 with leading artists coupled with systems being launched for you the athlete to co create with the Nomis design team.
For the launch, there are a limited edition of just 200 pairs and you can only get them via Footy Boots for one month only by clicking on the link below.
Other technology incorporated into the boot
Dual Control
Dual Control Technology has been found in laboratory tests to create significantly more grip in dry conditions compared to other standard leather boots. More grip gives more control, power, swerve and better performance. The leather is soft, strong, and breathable, providing excellent sweat resistance while being totally colourfast.
Nomud
Nomud is an innovative new technology that helps our boots to remain light during game play without sacrificing vital support features that expose you to injury.
Nomud is applied to the outsole of Nomis boots, which significantly reduces the amount of mud, grass, and dirt collected during normal game play.
Nomud helps retain maximum traction whilst your boots stay just as light at the end of your game as at the beginning.
Nomud also means less cleaning as it is a self-cleaning technology.
Price: £160
Available: January 9, 2009 – order here
Limited Edition: 200 pairs