Nike's new boot onslaught continues with these understated new Tiempo Legend III's in White/Seaweed/Red.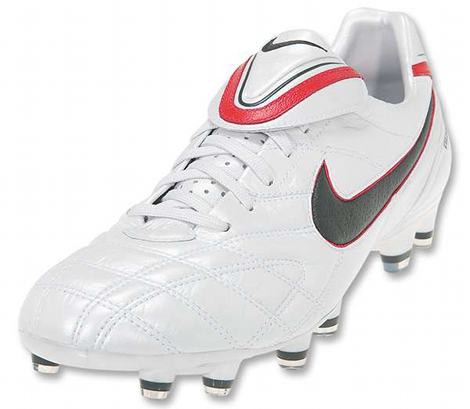 After the brash neon-orange-ness that came with the Tiempo Legend III Elite, we're thrilled to see Nike follow it up with one of the classiest colourways we've seen on the Tiempo Legend III yet!
The deep green Seaweed is a great contrast to the red that Surrounds the iconic Nike tick, and the classic white finish brings the whole boot together in a really sharp manner!
We get something of an 'American Collegiate' feel to the colourscheme, maybe it's the classic design coupled with the colour scheme that kind of evokes the Red White and (kind of) Blue of Ol' Glory.
The real dilemma is which players will be wearing this new football boot come August?
Carlos Tevez was Nike's Tiempo man up until the World Cup, when he made the switch to the Nike CTR360 Maestri (not that he was that good at being Mr. Tiempo, he was always wearing older models of the Legend anyway!!)
We reckon that – depending on where he ends up – Joe Cole could become Nike's main man for this football boot – which is just as well, as this boot would go just as well with a Manchester United, Tottenham Hotspur or Arsenal shirt!
What do you reckon to this new Tiempo Legend III colourscheme?
NIKE TIEMPO LEGEND III WHITE/ SEAWEED/ RED, 9.2 out of 10 based on 43 ratings