Eden Hazard debuts the all-new Mercurial Vapor Flyknit Ultra, digging into his past and recalling his favourite Mercurial moments.
Closing in on his highly anticipated return, Hazard gets a taste of Nike's first complete Flyknit Mercurial Vapor.
I've played with Mercurials for 15 years, and they have always been good. There hasn't been a colorway I didn't like. I actually haven't had a lot of bad moments in my career — only good memories.
Since his days playing football on the streets as child, to making his international debut at 17, Hazard has been wearing his favourite Nike Mercurials, making history with each kick. Now Nike have taken it a step further, dropping what is described as the future of Nike football boots. Created with a single piece of Flyknit material, these limited edition boots are set to become a huge hit amongst fans, showing Nike's power before next years World Cup Tournament.
Released in an all Black/ Metallic Gold colourway, the new Mercurial Vapor feature a much tighter woven Flyknit material than we've seen on previous releases, boosting the comfort. Another change comes to the silicon coating that Nike apply to their boots. Instead of creating the entire boot in it's silicon coating, Nike have added a more gradual placement to the Flyknit Ultras, meaning the knit is a lot more supportive towards the soleplate. The addition of Ribs to the Flyknit upper help to create ultimate friction for better ball control.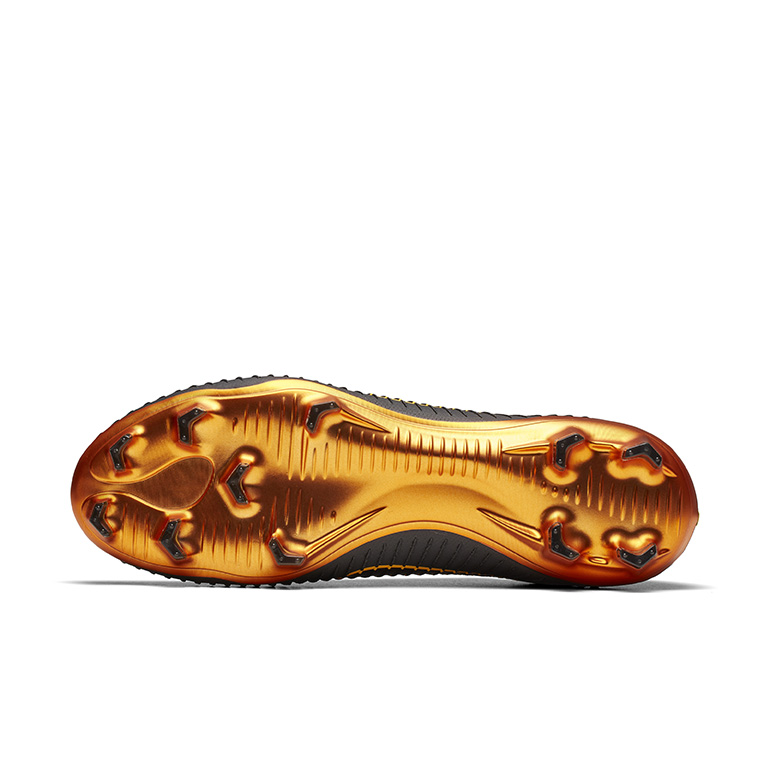 The plush sockliner within the boot, helps to reduce the stud pressure during gameplay.  The soleplate is in fact, the exact same design and spec as previous Vapor models, with Nike not feeling that change is needed here, and I agree.  Although, the 3D performance plate looks insane in the Metallic Gold Chrome colourway!!
---
Availability: 7th September 2017
Price: £209.05
Shop: ORDER NOW >>