After getting it's debut this past weekend, we thought it timely to bring you the full update on the Nike T90 Tracer Hi-Vis!

The Nike T90 Tracer High-Visibility football is the most accurate, responsive and identifiable (Personally, we think the Geo Chrome ball from the 'Cage' ads was much more identifiable..!) football Nike has ever designed. The new color combination using purple and yellow enhance the football's visibility and allow players to make split-second decisions on the pitch.
The Nike T90 Tracer football is engineered to stand out on pitch during unfavourable weather conditions such as cloudiness, rain, snow, sleet or cloudiness.
The Hi-Vis yellow and purple colour combination features additional fluorescence and brighteners, making it even more visible in low light conditions than previous generations of Hi-Vis footballs.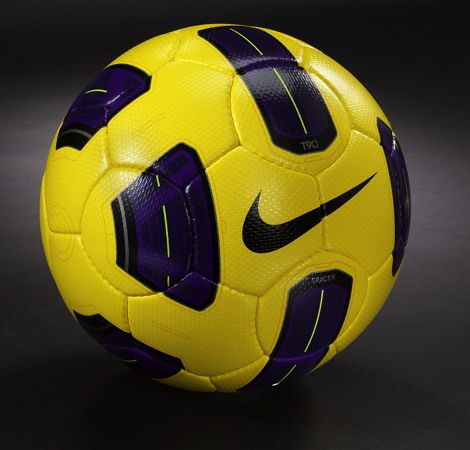 The new Nike T90 Tracer High-Vis ball is being used in the leading professional leagues across the world, including the English Premier League, Italy's Serie A and Spain's La Liga.
With its new patented hi-vis casing, performance graphic, and unique five-layer construction, the T90 Tracer Hi-Vis embodies football innovation.
Designed to FIFA's approved specifications, weighing between 420-445 grams, and with a circumference of between 68.5-69.5 centimeters, this new football showcases the following:
Accuracy

The Nike T90 Tracer shows pinpoint accuracy at diverse shot and passing ranges.
Visual Acuity
The Nike T90 Tracer High-Vis ball features purple and yellow fluorescence/brighteners along witha colorful graphic pattern scientifically proven to help players see and respond quickly to the ball more than ever before.
The high-contrast asymmetrical graphic generates a strong visual signal, which catches the peripheral vision and focuses the central vision quickly.
Consistency
The ball's micro-textured casing regulates airflow equally across its entire surface giving it a more direct arrow-like flight.
The ball's aerodynamics were scientifically tested in wind tunnels at the University of British
Columbia.
Testing shows that the Total 90 Tracer consistently hits a 3-foot in diameter bulls-eye while the leading competitive ball hits a bulls-eye approximately 6-feet in diameter, showing the T90 Tracer is twice as consistent as the competition.
Touch
The unique 5-layer casing and construction of the Nike T90 Tracer makes the ball easier to control for all players.
The Geo II configuration of the ball's 32 panels gives it a 360-degree sweet spot by evenly distributing pressure across the ball.
The cotton support fabric gives the ball greater shape and stability.
The 6-wing carbon latex air chamber provides the ball with its explosive acceleration on the ground or in the air.
Control
The engineered rubber response layer provides greater control of the ball as it absorbs and stores the energy of a pass or shot on impact before releasing it when it is moved on again.
The cross-linked nitrogen expanded foam ensures a consistent feel of the ball despite the weather conditions.