The latest colourway for the usually wildly bold T90 Laser III uses it's colours a little more conservatively in this smooth Platinum/Orange Blaze/Black colourscheme.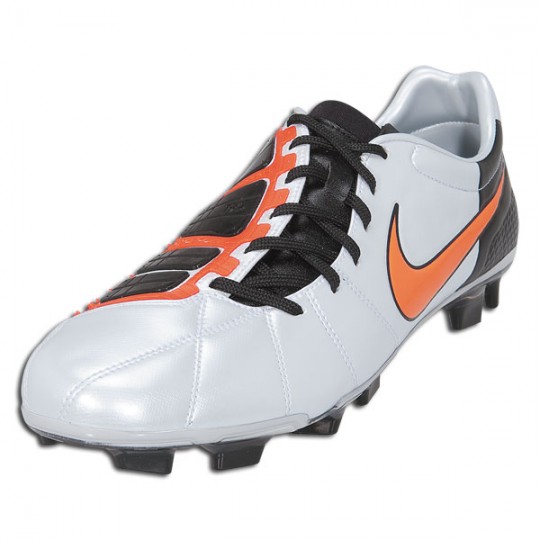 Seen here in it's Nike Elite Series incarnation, these powerful football boots use the ice-cool platinum and black as a very clean-looking base, adding the bold Blaze Orange on-top for a smooth looking colourway.
As this is the synthetic model, it should be much easier to clean than it's K-Leather counterpart, and just as well! The smooth platinum upper is definitely a colour that we'd want to keep in pristine condition!
The rubber-fin-covered swerve zone has also gotten a the technicolour treatment for the first time on the Synthetic Total 90 Laser III; with all previous models having been an uninteresting shade of black, this time out the Lasers get a bold blaze orange colour to contrast against the stepping-stone like black silicon pods.
As mentioned before, as these are the Elite version of these football boots, so we don't get to see the detail that Nike like to weave into the heel counter, but we'll update with photos of this section of the boot when they become available!
The Total 90 Laser III in Platinum/Blaze Orange/ Black is available to pre-order from this Friday in both Elite and standard versions, with a retail release following shortly in early October, with a price tag of £250/$325 for the Elite and £130/$220 for the Standard.
NIKE T90 LASER III PLATINUM/ ORANGE BLAZE/ BLACK, 8.7 out of 10 based on 49 ratings