As with every new synthetic T90 Laser III release comes a colourway specifically for the K-Leather version of their power/accuracy football boots too – and in this case, it's a rather nice one!
Coloured in a Nike-favourite Obsidian, this is the first time (we can think of) where the leather on the T90 Laser III's upper has been anything other than black or white – so finally a bit of variety comes to these fantastic football boots!
The classic silver matches up nicely with the Blue Spark and Dark Obsidian, so overall we think this is another solid colourway for the T90 Laser III.
One thing that we're not a fan of is the black 'T90' logo on the heel – there's an unwritten law of design that says black and navy are usually a bad combo – and that definitely the case here! We'd have much preferred that these football boots used royal blue or silver, rather than introducing black – but that's just us!
All in all, we're glad to have a blue T90 Laser III to add to the collection, they're a great match for plenty of football kits – especially teams like Chelsea, Marseilles, Barcelona and France – and plenty of professional players will be happy to have a coordinating pair of football boots in their locker!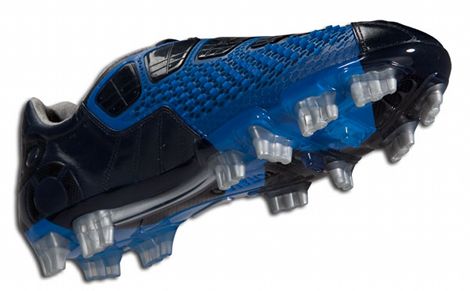 These new football boots are part of Nike's Summer '11 range and will land in stores on April 1st, with pre-orders starting this week!
What do you think of the lastest T90 Laser III K-Leather?
Drop a comment below and let us know!
NIKE T90 LASER III K – OBSIDIAN/METALLIC SILVER/ BLUE SPARK, 8.8 out of 10 based on 17 ratings