The search for Europe's most accurate footballer has begun. The Sanchez Boys have set the ultimate challenge. The line up includes Nike T90 Laser footy boot quartet Wayne Rooney, Gennaro Gattuso, Florent Malouda and Torsten Frings.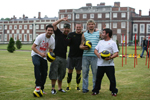 From Friday, football boot fans can follow the Sanchez Boys as they travel across Europe to find these four football players in their quest for extreme football boot accuracy.
Over the next month, the Nike 'Put It Where You Want It Tour' heads to the UK, Portugal, France and Italy. Every kick and shot with their football boots will be revealed in four separate hilarious videos.
Nike, Rooney and The Sanchez Boys Video
In the first video, which you can view here at footy-boots.com on Friday, Manchester United and England superstar striker Wayne Rooney takes up the football boot challenge when the Sanchez Boys pay him a visit at his house on a rainy day in the North West England countryside.
The Sanchez Boys discover exactly how accurate Wayne Rooney's Nike T90 Laser football boots really are. Straight away, Wayne puts the ball exactly where he wants it and scores maximum points by hitting targets strategically displayed on vulnerable Sanchez Boys' body parts. Wayne took part in a series of footy boot trials including:
'The Pain of Wayne': one of the Sanchez Boys is tied up in goal wearing nothing more than a red thong. It is five points if Wayne strikes his back with the ball, ten points for his leg or arm and the ultimate twenty points to hit his behind. It only takes two attempts for Wayne to walk away with all twenty points.
'Moving Goalmouth Bullseye': one of the Sanchez Boys stands semi-naked in goal with a large dart-board target in front of him and challenges Wayne to hit the bullseye whilst he is running from goal-post to goal-post.
'Rooney's Musical Targets': all four Sanchez Boys have to dance and move in the goal area whilst the music plays. Three wooden statues are also in goal with them. When the music stops, Wayne drills the ball at them with his Nike T90 Laser football boots. If the Sanchez Boys are hit, they are out of the game.
'Rooney's Seaside Challenge': all Sanchez Boys take their places behind a classic wooden seaside caricature exposing their faces and vulnerable male body points for Wayne to take aim at with the ball.
Wayne commented:
"The funniest moment was when the lads were behind the goal and I was trying to hit them [with the ball] and one of them ran into the goal but he had no clothes on so he was in front of the goal for me to hit. It was difficult to concentrate at times because it was so funny.
Accuracy is so important in our game. It applies to every player on the pitch because for every position you play, you have to be accurate. Every team wants to score goals. Accuracy can make the exact difference between hitting the goal post, or scoring a goal."
Be sure to check out Wayne's football boot accuracy test on Footy-Boots.com TV, available from the Footy-Boots.com homepage.