For the last three seasons, Nike have been championing performance baselayers with their Nike Pro Combat range. Returning for Winter 2012, Pro Combat is better than ever ' – with the new Hyperwarm Max Shield leading the fight against the elements.
Having hit it out the park with last season's Hyperwarm Shield, the Max Shield Mock builds on 2011's design, and improves it in just about every way.
Designed to help keep the body regulated for inclement weather, the new Nike Pro Combat Hyperwarm Max Shield packs improved breathability, water resistance and a streamlined fit to ensure players stay focused on the game – no matter the weather.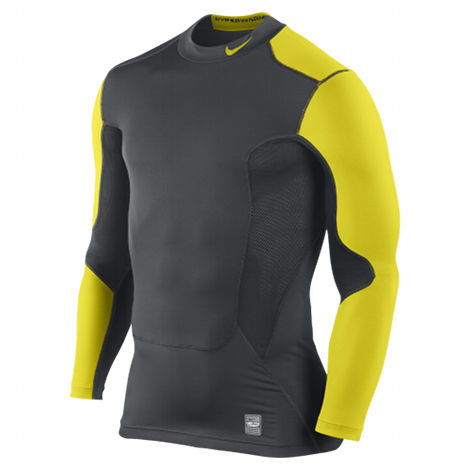 Team that with one of Nike's ACC range of football boots, and you should have no problem performing at the top of your game in even the worst weather!
World class players including Neymar (Santos and Brazil), Wayne Rooney (Manchester United and England) and FC Barcelona's Andres Iniesta benefit from a range of Nike Pro Combat apparel items that keep them focused on the game in adverse weather conditions.
As with last year's model, the Hyperwarm top features Nike Shield technology to keep the lower arms dry in the rain, bringing in a new texture for more effective waterproofing – as opposed to last year's printed applique.
A market-leading feature for decades now, Dri-FIT Max helps pull sweat off the skin to eliminate chill, whilst large ventilation over high-heat zones helps regulate temperature during outdoor play.
The Nike Pro Combat Hyperwarm Dri-FIT Max Shield top also features 3D-structured Dri-FIT fabric with a DWR (durable, water-repellent) finish for wind and water resistance. The fabrication utilizes this 3D structure to help keep athletes dry and reduce cling from perspiration.
As with every season, Nike are also bringing out a new version of their Slider Pro Combat shorts. An essential in many player's lockers, Nike have brought some of the Carbon-Fibre inspired graphics from their American Football Pro Combat range for the latest incarnation for a killer aesthetic.
Having worn the last two versions of the Hyperwarm mock, we're expecting big things from the' Nike Pro Combat Hyperwarm Max Shield' – what do you think of the lastest design?
Let us know in the comments!