The long-protracted Mesut Ozil boot-swapping saga looks to have reached it's heady conclusion (for now) as Nike filed a lawsuit that was approved by a Dutch court earlier this week, preventing him from wearing adidas boots.
Real Madrid star Ozil has been trying out different football boots since Los Blancos' pre-season tour of the US, more often than not appearing in adidas Predator LZ's or all-white adidas F50 adiZero's.
However, during this weekend's 2-0 win over Celta Vigo, Ozil was back in the Nike Mercurial Vapor VIII – causing many to believe that the German international had come to an amicable agreement with the American super-brand.
This week, though, has revealed a different side of the story as details of Nike's court case against Mesut Ozil have come to light.
Despite Ozil's contract with Nike ending in the summer, after the former Werder Bremen star turned down a lucrative deal, under the terms of the old contract Nike still retain the right to match any other brand's offer of individual sponsorship.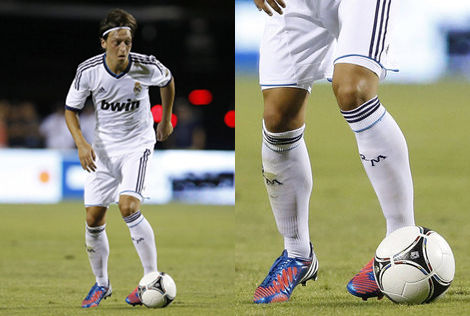 So, by wearing adidas boots with their three stripes and logos on full display, Ozil shot himself in the foot. According to sites in Ozil's ancestral homeland, Turkey, Ozil's only defence would be that he was wearing the fully-branded boots of his own volition.
The Dutch court, however, ruled that such a high-profile athlete would be unlikely to wear the logos of another brand without another deal being in place. Despite adidas' protestations to the contrary, it was decided that even an informal deal would be in breach of the pre-standing agreement with Nike.
The result? Ruling in favour of Nike, the court decided that Ozil must wear brand-less boots or Nike boots for the next 180 days.
So, Ozil can continue to wear the Vapor VIII's he wore at the weekend or he can wear black or white-out cleats for the best part of six months or face a fine of ˘€š¬150,000 a day.
On the other hand, adidas could go through the official channels and table an offer for Ozil – though they would be forced to compete with Nike's counter-offer should they do so.
The reality is, with Ozil participating in no major international tournaments in the next 6 months and the Champions League final not until the end of May, adidas will likely want to take advantage of the disagreement with Nike and will simply wait until mid-April to sign Ozil up.
Ozil isn't the first superstar to underestimate the binding power of a Nike contract; AC Milan's Robinho began testing Mizuno and adidas boots as he assumed his contract with the Swoosh was over – only to find his contract had auto-renewed and he now technically' owed ˘€š¬300,000 per day he was spotted in a competitor's footwear. Ouch.
Which outcome do you think is more likely? Will Ozil black-out his boots for the next six months?
Let us know in the comments!