The message is simple; Be faster. How? That's the easy part – the Nike Mercurial Vapor VIII.
Gone is the FlyWire, the Sense Stud and the Carbon Fibre. What remains is the purest expression of the' Nike Mercurial Vapor range since the Vapor III – and it's quite the sight to behold!
Lightning quick and lighter than ever before the Nike Vapor is back. Sleek and dynamic, the way the' Nike Mercurial Vapor VIII is presented this time out completely different to it's predecessors.
Nike say that the synthetic leather upper is super-soft, and it's low-profile, thin structure is designed to shape to your feet to put next-to-nothing between you and the ball – a message normally reserved for a K-Leather football boot!
As everyone knows, when it comes to the battle of 'speed' football boots, weight is key and the make-or-break of a boot can be in it's gram count. Thankfully, Nike have delivered, and are completely upfront that the two models of' Nike Mercurial Vapor VIII have a variance in weight.
The firm ground model weighs only 187g, whilst the soft ground SG-PRO version also comes in an interesting 216g.
With no carbon fibre on this model, Nike have opted for a full-length Tepex glass fibre soleplate, designed to offer the perfect level of lightweight structure and stability.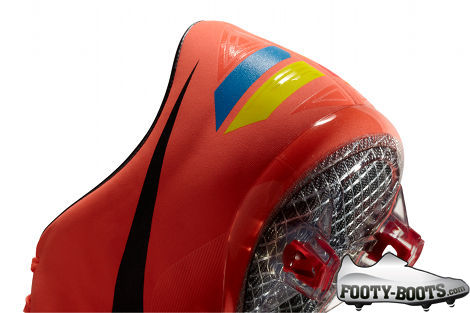 Twin studs at the back allow for a quick release from the turf and the asymmetric design of the stud configuration delivers an explosive start. Sharper blades cut through the turf, allowing for game-altering changes in direction.
Cristiano Ronaldo has always worn the Mercurial and the boots have once again met his very exacting standards śThis boot is perfect for me. I can get an edge on defenders, knowing that the boot will give me the speed and traction I need without compromising support, control or, of course, style.ť
Available in Mango / Dark Grey or White / Blue at launch on April 1st, expect to see the' Nike Mercurial Vapor VIII retail for $220.
Let us know in the comments!
NIKE MERCURIAL VAPOR VIII, 9.1 out of 10 based on 513 ratings