We're not sure whether this Sunset model is meant to be the more conservative of the two Nike Mercurial Vapor IX launch colourways, but we're very sure we like it
Styled in a bold, metallic orange-to-golden yellow fade, with luminous 'Volt' branding on the heel and toe, the Nike Mercurial Vapor IX – Sunset is a boot that's bound to turn heads.
And as such, it's only fair that Nike have hand-picked some of the most head-turning players on the planet to wear them! Whilst Vapor Veterans will be wearing the Fireberry colourway, Nike are outfitting the exciting new generation of Mercurial stars to in the Nike Mercurial Vapor IX – Sunset.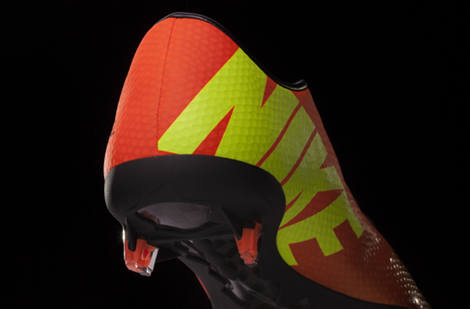 So, expect to see Eden Hazard, Mario Goetze, Raheem Sterling, El Shaarawy and – of course – Neymar wearing this incredible colourway as of this weekend.
Carrying on from the GS2 Squad, we think it's a bold, exciting move by Nike to give the two launch colourways even footing – here's hoping it encourages some friendly rivalry amongst the players in them!
Enough about the colour, though – what does the Nike Mercurial Vapor IX – Sunset give us that the exceptional Vapor VIII didn't?
Well, you've probably noticed the golf-ball-esque upper. This dimpled surface is Nike's Speed Control Texture. Premiering on the Vapor IX, Speed Control Texture is soft and supple, adding extra ball feel to give confidence to players executing deft touches at speed.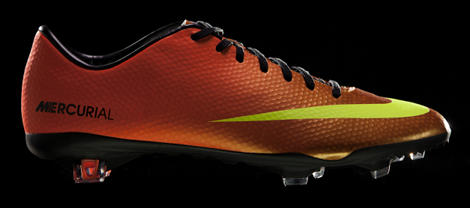 Combine that with Nike's tried-and-true ACC technology, and you have the first Mercurial that's not just fast, but also designed to never let you down in the touch department.
Twin studs at the back of the traction plate allow for a quick release from the turf and the asymmetric design of the stud configuration delivers an explosive start.
The Mercurial Vapor IX features a unique, lightweight plate, incorporating two different pieces of glass fiber that increase flexibility and responsiveness, providing energy return in the heat of the game.
Launching at retail on January 31st, you can pre-order the Nike Mercurial Vapor IX – Sunset from today.
NIKE MERCURIAL VAPOR IX – SUNSET, 8.9 out of 10 based on 87 ratings