Do you love Mercurial Vapor football boots?
Then why not check out the latest Nike Football Boots
' Here is the lowdown on the Nike Mercurial Vapor III.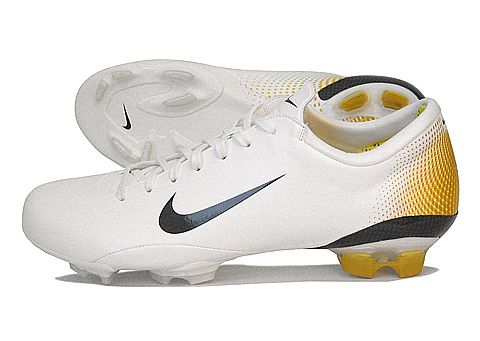 American sportswear giant Nike have released a selection of limited edition football boots for their 3rd generation Mercurial football boot. Made in Italy, this football boot is the last one Thierry Henry will be wearing for Nike.
The style of this football boot mixes tradition, with the latest technology and look.
Performance: Extremely light (less than 200g), due to its Teijin synthetic upper and the light weight carbon fibre heel. This makes for a speedy results and a good close feel of the ball. The sole of the football boot consists of a moulded design, ideal for firm ground. The studs are angled differently, with different lengths which gives optimum traction for quick acceleration and change of direction.
Comfort: The synthetic 'NikeSkin' is very forgiving on the foot and moulds to the contours of the individual. The breathable, cushioned internal heel cup offers heel support and reduces movement.
Players: Thierry Henry, Adriano and Ronaldo are sporting these Nike boots at the World Cup.
Price: £135
Launched: June 2006
Verdict: The Nike Mercurial, has proved to be a popular range by Nike and the latest version will continue the success. Pricey, but a worthwhile consideration.