Nike Mercurial Vapor IV Football Boots.
Update: Looking for the new Mercurial Vapor VI? Go to the Vapor 6 article.
Original Mercurial Vapor 4 Article July 2007:
Here are some of the Nike Mercurial Vapor IV colourways, the Vapor IV supersedes the highly successful Nike Mercurial Vapor III football boots.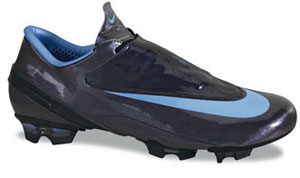 Made famous by Premier League stars such as Cristiano Ronaldo, Didier Drogba, Andrei Arshavin and Aaron Lennon the Mercurial Vapor IV became the most popular and recognisable boot of its period, featuring:
Speed Plate
The Mercurial Vapor IV features Nike's innovative Speed Plate technology designed to give players instant acceleration and make them fastest to the ball. Additionally, a re-engineered upper has been crafted not just to make players faster, but faster while dribbling and shooting.

Tactile Coating
In order to aid dribbling with the ball at speed, just one seam exists in the shoe's upper material, while a new stitched stretch lace cover creates a cleaner ball contact area. The football boot is also wrapped in a clear tactile coating that creates a gripped surface for all playing conditions.

Vapor Traction System
The Mercurial Vapor IV's Vapor Traction System broadens the scope of player fit; heel pods have been expanded laterally for more cushioning and extra protection. Stabilising the foot, a form-fitting insert cradles the heel, while a Glass Fiber heel wrap provides lightweight stability with minimal slippage. All told, the comfortable ride of the Mercurial Vapor allows for sustained play at speed, keeping the ball where it should be: on your feet or in the net.
Read about the Nike Mercurial Vapor III football boots, or the latest Mercurial Vapor VIfootball boots.