Ever since the Superfly was left by the wayside, one of the most common questions we're asked at Footy-Boots.com is when/if the Mercurial Superfly is coming back. Ask no more: the Nike Mercurial Superfly IV is here.
And it's glorious.
Having been shelved for so long, the Superfly name is back in a big way, with Nike cramming every bit of tech you can imagine on this boot; FlyKnit, Dynamic Fit Collar, Carbon Fibre – you name it, it's here.
Nike are aiming to change the way the speed is brought onto the pitch and the feel on the ball players get when travelling at pace in a drastic new manner with the Nike Mercurial Superfly IV.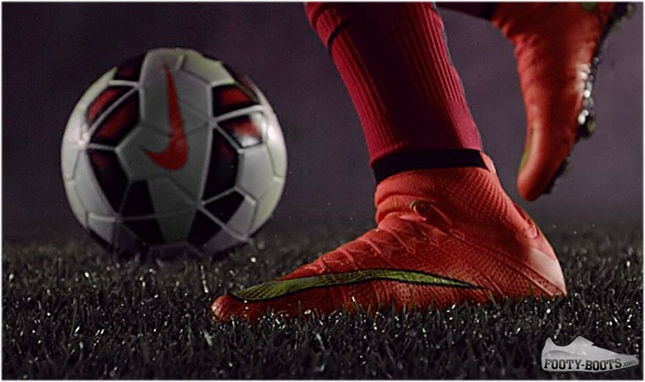 The most striking is, of course, the Dyanmic Fit Collar. First seen in football boots on the new Magista Obra, the Nike Mercurial Superfly IV employs it in much the same way.
Extending the FlyKnit upper further up the leg creates the sensation of a more 'one to one' movement between the foot and the rest of the body; for every stride or strike, the player's feet are working in tandem with the boot.
Rather than the Flywire of the old Superfly, you're now getting Brio cables, which are knitted directly into the upper and locked into the outsole. By connecting this tendon-like support to the heel, the Superfly acts like a slingshot that helps propel the player forward according to Nike.
The upper is no slouch, either; A new three-knit weave puts less material between the foot and the ball to enhance players' touch €" a vital element when operating at high speeds.
Also; Carbon fibre is back, baby! We haven't seen it on a Nike boot in a while, but the Nike Mercurial Superfly IV brings back the Carbon Fibre in a big way.
A full-length Carbon Fibre chassis is the order of the day. Nike have made sure to underline that this chassis is much more flexible than the previous plates using the material and should be an exciting prospect for players to try out.
You might also notice that the stud pattern has also been revamped; the four-stud heel is back in business and and extra traction has been placed at the toe to give players more grip and propulsion during the critical final 10 percent of their stride.
As you might expect, Cristiano Ronaldo will be the main man to wear the Nike Mercurial Superfly IV, which goes on pre-order May 26th.
Will you be lining up to get a pair?
Let us know in the comments!