We saw it coming on the feet of a fair few players last week, but boy are we happy it's here: the Nike Mercurial Superfly IV – Laser Orange has officially landed.
In a series known for retina-searing colourways, we imagine it must be tough to stand out. Thankfully, Nike have extended their colour pallet (and probably the visible light spectrum) to bring us the new Laser Orange Superfly.
Set to debut in the Champions League games tonight, the Nike Mercurial Superfly IV – Laser Orange is certainly a very good-looking pair of football boots.
The base colour is – for starters – a stunner, and the White-with-Black Swoosh is simple and clean enough to give the boot some real pop.
And who will be making them 'pop' on the pitches this fall? Well, we all know Cristiano Ronaldo has his own new signature 'Electric Green' model, and other Mercurial headliners like Zlatan Ibrahimovic and Eden Hazard seem to prefer the Vapor.
So it's going to be up to players like Manchester United new-boy Marcos Rojo, Liverpool hot-shot Raheem Sterling and Arsenal's Alexis Sanchez to make sure the new Nike Mercurial Superfly IV – Laser Orange is given plenty of opportunity to turn heads.
If the Superfly IV looks a little alien to you (even without the luminous colourway) then you might well need an introduction.
That ankle-high collar is an extension of the FlyKnit upper – a unique weave construction exclusive to Nike – which has been reworked to stand up to the vigors of a ninety-minute football match.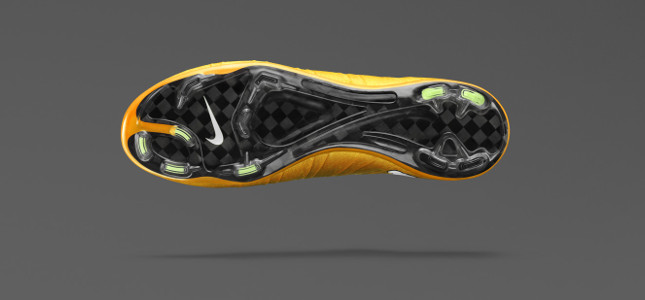 Along the side are Brio cables, which work with the lacing system to provide a slingshot-like effect when bedded into the soleplate.
Speaking of, Nike are back to Carbon Fibre again on the Mercurial Superfly IV, but have thinned out the material to trade off a little energy return for a big bump in comfort.
We know you've got something to say about the Nike Mercurial Superfly IV – Laser Orange, so be sure to drop us a comment, or leave us your thoughts on our Facebook, Twitter, Google+ or Instagram.
Nike Mercurial Superfly IV | Laser Orange, 8.6 out of 10 based on 17 ratings