Nike are using the biggest athletes in their stable to issue the ultimate challenge to football players the world over in 2012: Whatever you do, Make It Count.
Kicked off by Cristiano Ronaldo on New Year's Eve, the Portuguese became the first superstar to make his pledge tot the #MakeItCount campaign with this tweet: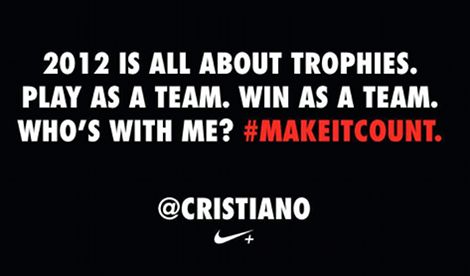 Since then, Nike have been gathering their top stars to pledge how they will #MakeItCount over the next twelve months.
Given the Twitter-Centric message of the campaign (likely to help promote the brand's new @Nike account), who better to appear in the first #MakeItCount video than Rio Ferdinand?
https://www.youtube.com/watch?v=5IU9DQZj_Yg
The big defender has won the Premier League, the UEFA Champions League, the League Cup and even the FIFA Club World Cup in his tenure at Manchester United – so how does the England International aim to better that in 2012?
In this latest video from Nike Football, Rio tells us that the idea of looking back on a legacy – of trophies, honours and great victories – are what keep him motivated.
The most interesting part of the campaign, however, comes on the homepage where Nike say they will make a 'game-changing' announcement on 19.01.12.
Given the prominent use of both the Nike+ logo and their footballing product ambassadors, there's a lot of speculation on what they could be bringing to the table.
We'll have all the details on the 19th, but until then – we want to know what you think Nike's big announcement might be…!
Give us your best theories in the comments!