After two stealthy releases after it's unmissable launch/World Cup colourway, the Nike Magista Obra has a new-season colourway in the form of the stunning Nike Magista Obra – Hyper Turquoise / Laser Orange.
Not a colour we see Nike unleash on football pitches too often, the new Hyper Turquoise Magista is sure to make an impact as it makes a full debut in the Champions League.
Bringing in the 'Laser Orange' that we'll see on all of Nike's Fall 2014 football boots, the two bright colours are a nice contrast to the crisp White and Black Swoosh on the flank.
Set to be clocked on the feet of playmakers like Andres Iniesta and Jack Wilshire, as well as players across the pitch who want the comfort and touch that the Magista Obra delivers, expect the Obra and it's sibling – the Opus – to be a popular sight on the pitch.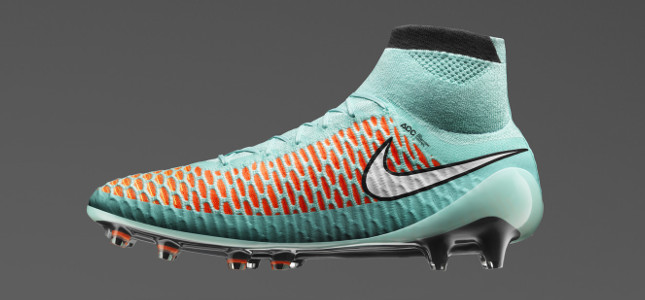 For anyone that missed their spectacular launch earlier in the season, the Nike Magista Obra have the privilege of being Nike's first ever football boots to feature FlyKnit.
Starting from the tip of the toe and working their way up into a first-of-it's-kind ankle-high collar (the Dynamic Fit Collar), Nike have equipped this revolutionary cleat with all the tools a player needs to 'create the attack'.
The FlyKnit itself provides a soft base to bring the boot closer to the foot, for maximum ball feel.
A NikeSkin finish runs in conjunction with a honeycomb brio cable structure to provide consistent fit for exceptional control.
Along the upper, you'll also find the Nike ACC 'All Conditions Control' finish, which reacts to water to boost friction for a effective touch in bad weather.
The outsole on the Nike Magista Obra is a two-density Nylon Pebax number that boasts conical studs for the sort rotational agility playmakers need to find gaps in the midfield.
What do you think of the Nike Magista Obra – Hyper Turquoise / Laser Orange?
Why not drop us a comment or a rating in the boot-o-meter and let us know?
Nike Magista Obra | Hyper Turquoise / Laser Orange, 8.9 out of 10 based on 21 ratings