After a Rare Gold Superfly IV for Cristiano Ronaldo, Nike are sticking with top players and bling as they reveal the Nike Hypervenom Phantom – Neymar Liquid Diamond.
As you can probably guess, these are a colourway exclusive to Neymar Jr., marking the second signature colourway the Swoosh have produced for the Brazilian superstar – the other bring the Sonha Durado all-gold editions he wore at the World Cup.
https://www.youtube.com/watch?v=yCjLG5r7myg
Rather than taking inspiration from his childhood this time out, Nike have taken the unusual step of looking at Neymar's tattoo's for design queues – with one bit of ink in particular carrying a very special meaning for the Barcelona No. 11.
His close relationship with his sister, Rafaella, is symbolized by a diamond tattoo on each of their arms. Just above Neymar Jr.'s tattoo is the word 'sorella' (sister), while Rafaella has 'fratello' (brother) above hers.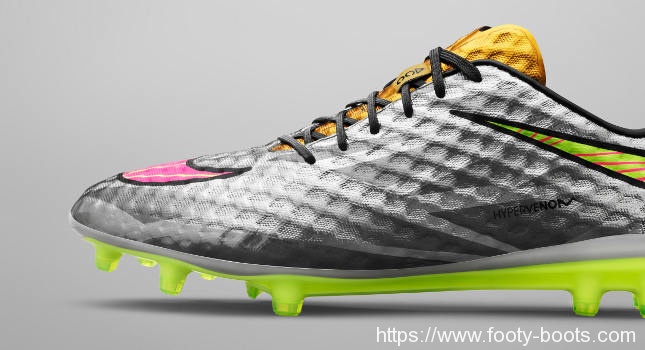 Neymar Jr.'s affinity for diamonds helped inspire Nike's design team to create the unique colorway. "We take inspiration from Neymar Jr.'s play and personality," says Max Blau, VP Nike Football Footwear. "He attacks the defense with a style so fluid, it reminded us of water flowing between rocks. That's when we started shifting our thoughts from incorporating a nod to diamonds, to creating a liquid diamond aesthetic for the entire upper."
The NikeSkin upper of the Hypervenom provided a textured canvas, enhancing the dimension of the color. After experimenting with a variety of different shades, the Hypervenom Liquid Diamond began to emerge, with colorful accents as a nod to Neymar Jr.'s personality.
"I think they will stand out because of that bright and energetic feeling you get from these boots. I think they have captured my bold and cheerful nature." – Neymar Jr.
The Nike Hypervenom Phantom – Neymar Liquid Diamond drop on retail websites this Wednesday – January 28th – however, Nike will be taking pre-orders via the Nike Football app.
What's your take on the Nike Hypervenom Phantom – Neymar Liquid Diamond?
Let us know in the comments!