Fit = Fast! The new Nike Mercurials explode onto the next gene scene, with Nike putting speed & fit at the top of their inspiration. 
Exploring the streets, searching for the hunger that drives only the very best, finding out what makes them tick. Nike have done their research and come up with what we personally believe to be an absolute game changer.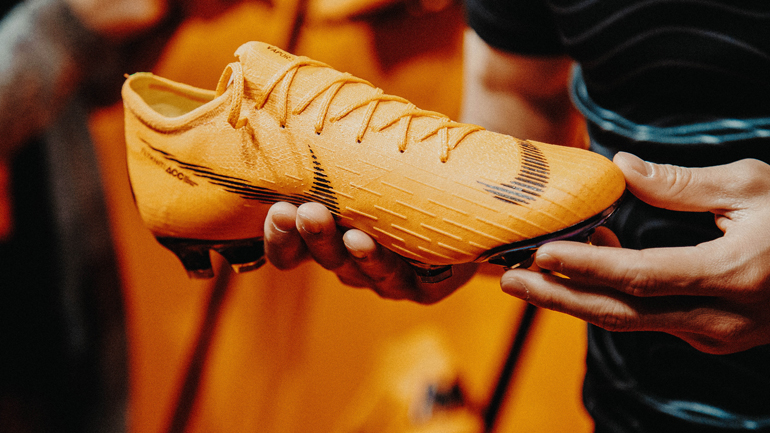 This next gen boot has it all. The thought and detail Nike have put in not only creates a stunning visual, but also a stunning story. After researching and asking some of the worlds top athletes, the ones who live and breathe football, they're main point was that if the fit isn't right, then speed can be compromised. Every players wants to feel control, to be able to play the full 90 without slowing down, and Nike have found a way to do this thanks to the new 360 flyknit construction.
The Mercurial Superfly 360 wraps the entire foot  in Flyknit technology. This builds hugs the foot, minimising spaces between the foot and the boot, allowing for ultimate control and fit. One unique thing about the boot is the soleplate, or as I should say, not the sole plate. Without one, the sockliner is free to interlock with a new internal chassis, which is tuned up for maximum responsiveness, giving the players all the speed and control needed to destroy any defence.
The 360 Flyknit construciton not only give Nike the advantage to produce the boot to perfectly fit players feet, it also adds an unbelievable soft touch to their game, boosting an uncompromising performance. Diving into the more technical side of things, Nike state that in previouse models, the Nike All Conditions Control (ACC) was applied on top of the Finished Flyknit, which created a thin layer. However, having gone back and approached this differently, the ACC is now embedded into the yarns before the knitting is complete, removing the additional skin without comprimising the performance.
The stunning finished results present a matte finish on a texturized upper which holds a much softer touch, with the strength to battle the elements. You may be wondering what it up with the stud placement and the bright orange colour? Well, Nike have a great reason behind this. Using speed as their main inspiration throughout, it allowed them to focus on some of the worlds fasted beings, in this case they chose the Cheetahs.
The stud placement on the forefoot and heel of the Mercurial 360 has in fact drew inspiration from the cheetahs paw! This minimalistic approach has allowed Nike to produce precisely placed studs that focus on groundbreaking speed & Traction.
---
Availability: Release date 14th February