Nike has launched its new NikeFive range of football boots and apparel specific to the needs of the five-a-side game.
Five-a-side football is played on all kinds of surfaces, having its own skills and demands. Game space per player is four times smaller than 11-a-side, whilst game speed can be up to four times faster. Nike has developed a range of football boots and clothing to cater for the five-a-side game, allowing players to play with speed, flexibility and comfort.
Football Boots
The NikeFive football boot range includes both outdoor (Air Zoom Control II) and indoor (Air Zoom Control II Futsal) footwear to allow five-a-side footballers the best control at speed whilst providing maximum comfort and flexibility. The football boots are lightweight allowing for 360 degree ball touch and front to back flexibility when twisting and turning in limited pitch space.
Both football boots also offer outstanding traction to help players cope with the speed of five-a-side. The Air Zoom Control II, with front to back stud design, is ideal for outdoor surfaces and the Air Zoom Control II Futsal has a low-profile front to back suctioned sole for grip on indoor surfaces.
Ball
The Rolinho Principal Parquet is a laminate finished ball specifically designed for indoor tricks on parquet surfaces with a blue and white design providing optimum visual contrast indoors. The ball is smaller and slightly heavier than conventional 11-a-side balls with low bounce, encouraging higher skill levels and ball control.

Apparel
Nike has introduced NikeFive apparel, customised specifically for the intense five-a-side environment. The dri-fit fibres wipe away sweat from the skin, keeping the fabric lightweight and encouraging movement. The kit is available in a wide array of bright colours and graphics, helping to enhance visibility in fast tempo games. The sleeveless football shirts are reversible for colour adaptability.
Gloves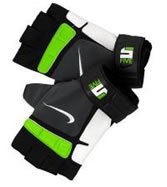 The NikeFive Futsal goal keeping glove incorporates abrasion-resistant padding on the side of the hand for protection on hard courts. The fingerless gloves are constructed with a 3 mm super soft latex palm with padded zones for enhanced grip and impact protection. Combined with a wraparound wristband, the gloves provide a secure, safe hands feel.
Nike spokesperson Leo Sandino Taylor commented: "Five-a-side is a fast paced game, in which events develop very quickly so it is important that players are given the best technology they need to perform. We feel the NikeFive range is ideal for the five-a-side footballer."
Click here to buy NikeFive products in the Footy Boots Shop!