Nike Launch FC Barcelona third kit for the 2019/20 season 
The shirt pays homage to the '96/97 season when FC Barcelona brought home the trio of trophies. Throwback teal is tipped with Blaugrana details and a print inspired by Barcelona's coat of arms.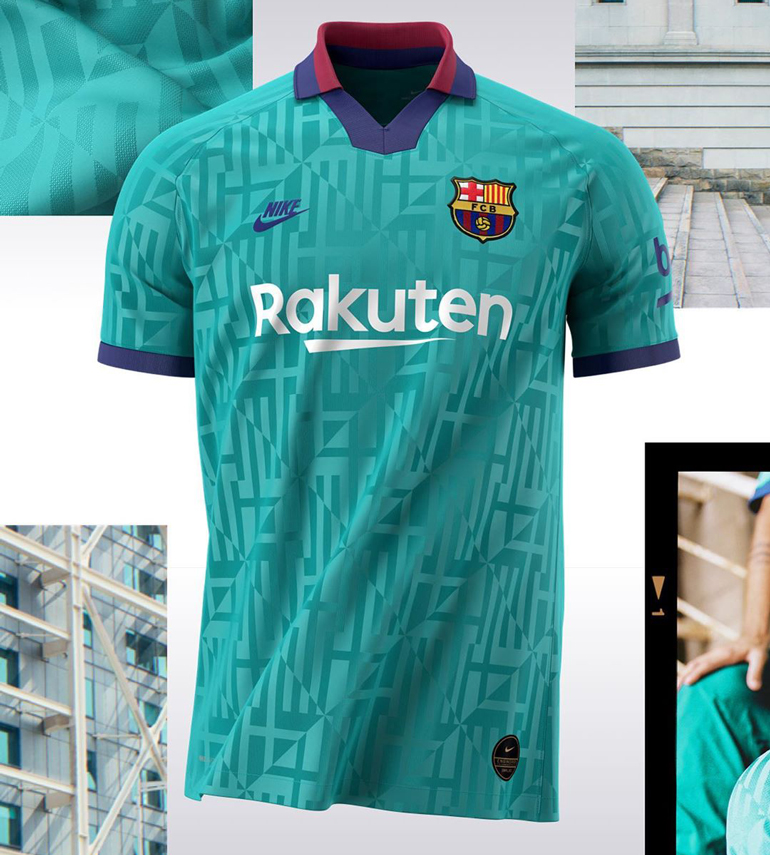 The shirt features the all-over light teal colour with trims in the club's traditional colours red and royal blue. A 90's traditional polo collar with Blaugrana trim.
The cuff of the sleeves and the Nike Futura logo are also in blue, whilst the main sponsor Rakuten is contrasting in white. Beko (the second sponsor) is in blue, displaying on the left sleeve.
The shorts and socks are also teal, with the socks having Blaugrana details and Nike's Futura logo with the word "Barca" written on the shin area in blue.
"Given Barcelona's incredible archive of kits, it was great fun merging their iconic '90s identity with the modern Nike aesthetic," says Pete Hoppins, Nike Football Apparel Senior Design Director. "The colour itself conjures so many memories, while the collar and the jacquard pattern make this kit both nostalgic and highly original at the same time."
FC Barcelona Home kit for the 2019/20 season
FC Barcelona's home shirt pays tribute to the gridded streetscape of Barcelona's Eixample district by changing the famous stripes to blue and red square blocks on the shirt, known as the building blocks of the city's future.
The new home kit features the Nike logo and the main sponsor Rakuten in white, the V-neck collar is decorated by the stripes of the Catalan flag.
Barca's 2019-20 home kit includes blue shorts and blue socks topped with red trim.
"The kit is something new and exciting," says Gerard Piqué. "It might be different, but it is 100 per cent Barca and it is even better than the design represents the bond the club has with the supporters and the people who are driving the city forward."
FC Barcelona Away kit for the 2019/20 season
FC Barcelona away kit pays tribute to La Masia – Barcelona's youth academy opened in 1979, which is the backbone of the club.
"It is not an accident that La Masia has given the world so many great players," says full-back and La Masia product Sergi Roberto. "It is a special place with a unique philosophy and I am pleased this new away kit highlights the academy. Forty years of work at La Masia really is something worth celebrating."
The away shirt is bright yellow decorated with a bold diagonal sash comprising the club's traditional home colours of red and blue.
It features a stylish v-neck collar finished at the back of the neck by a vertical strip featuring the stripes of the Catalan flag. The trims of the sleeves are different on each side — red on left, blue on right.
The kit is completed by a match day-choice of blue or yellow shorts and yellow socks. The socks are broken up by thick red and blue hoops which are detailed with a Swoosh and the word "Barça."
---
Availability: Now
Price: from £69,95
Shop: Order Now>>