Nike continue their hot-streak of smart colourways for the Elastico Finale III with a cool Lagoon Blue number to kick off the New Year.
Designed for players who demand a technical, sleek football shoe for small-sided games on any surface, the Nike Elastico Finale III – Lagoon Blue delivers all that and more in a stylish package.
Less the 'younger brother' and more a Flyknit-less alternative to the superb Elastico Superfly, the Nike Elastico Finale III might lack the intimidating price-tag of it's FC247 range stablemate, but it does have some great features that make it a top choice for futsal and fives players, in it's own right.
First of all, the tongueless design makes gives the Elastico Finale a slipper-like fit, with the laces placed centrally to give a customisable fit.
The upper also uses NikeSkin. Those in the know – or who have worn football boots like the Nike Hypervenom – know that NikeSkin is the fusion of layer-upon-layer of synthetic material over a high-tech mesh.
The result is a boot that moves with the foot thanks to the flexibility of the mesh, but can also boast superb touch and abrasion resistant qualities thanks to the topmost layers.

Nike also took the soleplate back to the drawing board with it's latest generation of FC247 shoes. Based around hexagonal tessellation, the soleplate can bend and flex with just about any movement of the foot.
Nike also understand from athlete feedback how important the sole of the foot is to small-sided players, which is why they opted for a single-piece outsole for smoother contact.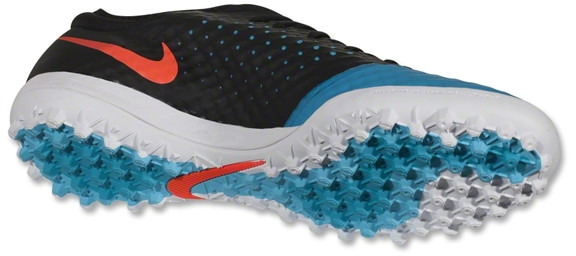 Made of highly-durable rubber, the soleplate on the Nike Elastico Finale III is also designed for superb traction across both it's variations; TF for turf pitches and IC for wooden courts.
Thoughts on the Nike Elastico Finale III – Lagoon Blue?
Get 'em in the comments: we'd love to hear 'em!
Nike Elastico Finale III | Lagoon Blue, 8.6 out of 10 based on 4 ratings