Just in time for start of the new Season, Nike are here with a host of new colourways of some of the best boots in the world – and here's the newest version of the CTR360 Maestri!
The ice cool Black/White/Retro CTR360 Maestri will be one of the most popular football boots on the feet of players across the world when the normal season commences again after the summer break.
Thanks to black being the primary colour, you can be sure that this boot will compliment plenty of football kits around the world – not least the New Barcelona Away Kit, which uses a similar minty-fresh colour palette.
Many keen-eyed boot spotters (and lets face it, we know all Footy-boots.com readers are exactly that!) will have caught glimpses of this boot in the promotional materials for the new Arsenal home kit for the 2010 – 2011 season – which is no surprise given that Cesc Fabregas is a key ambassador of the CTR360 football boots.
Onto the boot itself, a brief recap for those who are new to this increasingly-popular line:
The CTR360 Maestri was introduced by Nike at the start of last season for something of a niche market. Designed for the discerning midfield player who values playing in his team-mates and distributing the ball above all else, the CTR360 has quickly become so much more.
Nowadays you'll find players all over the park wearing them, from goalkeepers (Tottenham Hotspur & Brazil's Huerelho Gomes) to Strikers (Sergio Aguero of Atletico Madrid & Argentina).
The CTR360 Maesrti has a ground-breaking KangaLite synthetic upper, designed to hold many of the benefits of a traditional leather upper but be lighter, more workable and waterproof.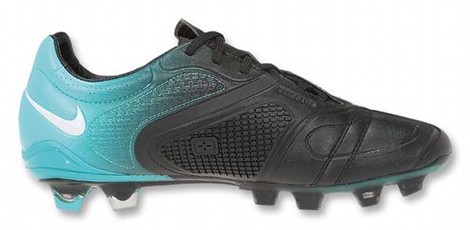 What do you think of this chilled-out new colourway?
Let us know on the boot-o-meter or with a comment!
NIKE CTR360 MAESTRI BLACK / WHITE / RETRO, 9.1 out of 10 based on 62 ratings