One of Nike's most-beloved boots gets an update, just in time for the new season – get ready for the Nike CTR360 III.
Nike's completely re-designed CTR360 Maestri III is for the player looking to dictate the tempo of a game.  Maestri – meaning Maestro in Italian – is the boot favored by midfield players who rely on innovative performance features toenhance their control of the ball, and therefore the game itself.
Who is a midfield maestro? The player with impeccable ball control, the player who receives the ball, makes his own time and space and has both the vision and the range of passing to create game changing opportunities.
Established playmakers sporting the new CTR 360 Maestri III will include FC Barcelona's Andres Iniesta and a new generation of young players including Arsenal's Jack Wilshere and Brazil's Ganso.
The new Nike CTR360 III is reengineered to deliver enhanced control, traction, support and lightweight comfort.  Using next generation Kanga-Lite synthetic material for an assured touch and durability, the new boot also features new All Conditions Control (ACC) technology, providing the same level of control in either dry or wet conditions.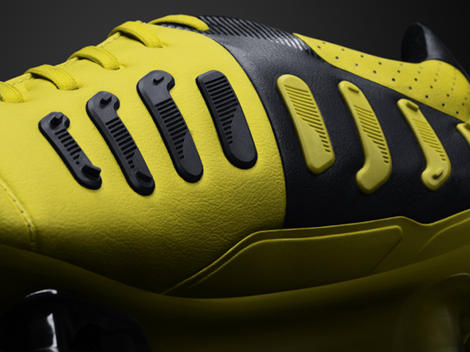 Innovations include a revamped 3D control pad that uses separate strips with fins of varying sizes to hug the arch and maximize contact with the ball, optimizing receiving and passing accuracy.
An asymmetrical lacing system enlarges the area used to control the ball and a new streamlined design enhances touch sensitivity. A dimpled texture on the midfoot increases friction, once again aiding the players control and touch, whilst replacing the raised 'pods' from the past two incarnations of the Maestri.
The new and more responsive plate features a 360 degree stud placement – the boot deploys round studs on the medial side and blades on the lateral – is designed to provide premium comfort; perfect for the midfielder's constant turns, and cuts through the pitch.
Also new on the CTR360 III is the option of the SG-Pro soleplate that has proven so popular on the Vapor VIII.
Launching primarily in this stunning Sonic Yellow / Black / White colourway, the Nike CTR360 Maestri III is definitely a boot that you'll get noticed in.
Available to pre-order from today with an August 1st retail launch, expect the Nike CTR360 III to set you back around £135 / $210 US.
As one of Nike's most popular boot ranges, a new CTR is bound to shake things up a bit – but what do you think? Let us know in the comments!
NIKE CTR360 III, 8.9 out of 10 based on 122 ratings