After the wild success of the two CTR360 II launch colourways, it's a huge relief to see that the 3rd entry into the Maestri legacy is equally as pleasing on the eye!
Following on from the template of the White/Black/Blue Spark model, this version colours the rear section of the boot in bold vibrant yellow, offering a clean, sunny look that we've yet to see on Nike's control football boots.
This fresh look is also bolstered by the addition of a Silver trim (something we've yet to see on the CTR360 II, up until now) which – in our opinion – kind of gives the CTR360 II a bit of a speed boot look to it – what do you reckon?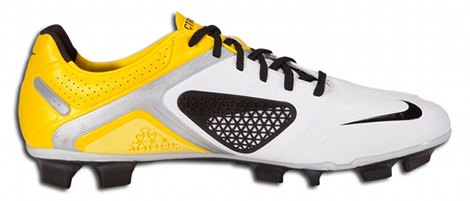 Another neat touch is the black laces – which normally we wouldn't condone on such a bright'n'breezy pair of football boots, but coupled with the sleek Elite soleplate, we think it looks pretty sharp!
As the CTR360 II's already existing colourways have white on them – we'd rather have seen Nike push the boat out with a mostly-black version, or something really exciting like the 'Black/White/Cyber' model from the last CTR, but hey – we're sure they'll come up with something soon!
Given that every CTR360 II already has white on it, we expect plenty of players to switch to the Maestri's new colourway – though posterboy Andres Iniesta now has a dilemma of which of the tree colourways to opt for, given that the Barcelona and Spain kits all have Red, Blue and Yellow on them!
These new football boots are part of Nike's Summer '11 range and will land in stores on April 1st, with pre-orders starting this week!
So, that's the new CTR360 II football boots in White/Silver/Vibrant Yellow, use the Boot-O-Meter and the comments to let us know what you
think!
NIKE CTR360 II – WHITE/BLACK/TOUR YELLOW, 8.8 out of 10 based on 63 ratings