To accompany the release of the new Nike CR7 Superfly III, Nike have also got a full range of Ronaldo-inspired gear under the 'CR7' banner.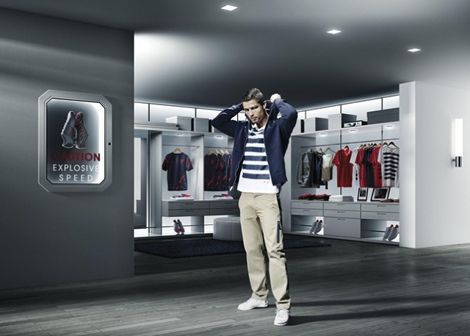 A mixture of performance apparel and street-smart fashion, the new Nike CR7 collection follows the Nike CR7 Superfly III's theme of contrasting Solar Red, White and blue and utilising bold and subtle patterns, to capture the two sides of Ronaldo's personality. Or something.
The flagship piece in the range is the stunning Nike CR7 Street Gato;'  Inspired by Cristiano Ronaldo's love for premium white sneakers, his collection brings a new interpretation of the Nike5 Street Gato.
Taking a new spin on the classic white in-line version, the Nike CR7 Street Gato uses a rich color tone for a premium and distinctive look completed with a ś7ť graphic on the heel representing his playing number.
The CR '7' is a running theme throughout the whole Nike CR7 collection, providing a subtle, yet recognisable, piece of branding to sit alongside the classic Nike swoosh.
A distinctive t-shirt featuring 7 stripes across the chest comes in three different colors (white, red and blue) and is made of organic cotton and special graphic and wash treatments give the V neck tee a touch of Ronaldo's signature style. Though presumably Ronaldo's style can be just about anything he wants given his outlandishly chiselled torso.
Sticking with the items for the fashionistas; the iconic Nike GS Polo gets a subtle-as-a-mallet Solar Red makeover, whilst the boringly named but surprisingly nice blue Aw77 Hoody and grey M65 jacket round off the Nike CR7 collection.
As for items for the practical player; the' Nike CR7 collection packs a compliment of training gear made to the same standard reserved for pro clubs, with the Dri-Fit shorts and shirt a particular highlight.
As for taking a little piece of the' Nike CR7 collection onto the pitch with you, Nike also have a distinctively-designed pair of Shinpads, training ball and backpack to help you get the best out of match day.
Anything take your fancy?
Let us know in the comments!