Nike have always been known in the Sports industry for their sheer creativity when it comes to marketing.
Going from success to success, campaigns for the Mercurial Vapor, T90 Laser and CTR360 have seen Nike do in 15-20 years what has taken most others five decades to achieve; and are now one of the most dominant forces in the game.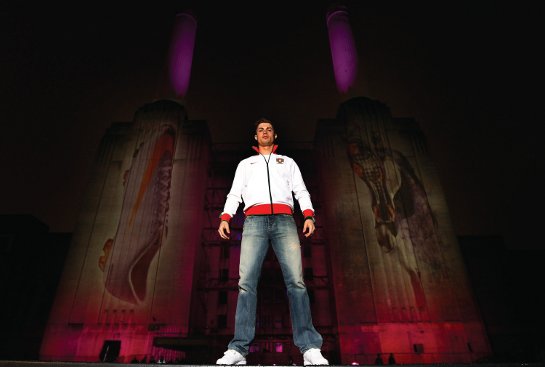 Looking back to the launch of their flagship football boots, the Mercurial Vapor Superfly II, you couldn't go on a single sports website without being greeted with a Violet Pop/Max Orange advert for the latest lightweight boot.
From major international news outlets to humble niche sites like ours, people were talking about Nike launching their latest football boots by taking over Battersea Power Station and lighting it up with images of the Superfly II – the buzz was huge – in fact, a quick Google reveals there are nearly 600,000 websites that contain the term 'Nike Superfly II'.
But nothing kills buzz quicker than being usurped by another product. Whilst the Superfly II was announced to much furore in February, it didn't hit shelves until April. The same month adidas unveiled the adiZero.
As we all know, the adiZero is finally a direct competitor to the Mercurial Vapor from Nike's biggest rivals. And whilst adidas had a nice launch and some decent adverts, it was eventually the lower price tag and lower weight that saw the majority of the football boots-buying public view the adiZero as the better cleat.
So, to sum it up – despite all the flash and wonder involved in launching high-end technology like NikeSENSE Studs and a reworked FlyWire upper, people tend to value things like weight, comfort and price when judging football boots.
Which is exactly why the Nike CR Safari was such a huge gamble for the big 'N'.
On one hand, it's a stroke of genius; there's no need to design a new boot as it's literally just a Superfly II, and it's essentially just a new colourway so you're not going to massively peeve off any fans who bought a pair at launch. Most importantly, it also allows Nike to snatch some of that all important 'Buzz Factor' ahead of the lucrative holiday season.
All they needed was a wild print and Cristiano Ronaldo's signature.
And is it working?
Well, here's some numbers – adidas F50 adiZero currently has 349,000 results on Google, in comparison, typing in Puma v1.10 SL will get you 117,000.
Putting Nike CR Safari into Google will net you 242,000 results – which is an incredible number considering the boot was only announced a week ago!
Nike once again have played the PR game ridiculously well, and whether you hate the speckled football boots or love them – you can't ignore them, and they're not even out yet!
But the big test will come on November 15th, when the Nike CR Safari go on sale – how much of that hype will convert into sold football boots?
We reckon that plenty of people will plump £275/$400US for these outrageous football boots, but it's going to be nothing in comparison to the amount of Mercurial Glides/Mercurial Victory's that they'll sell.
Attaching Ronaldo's name to these boots are certainly going to make them a kit with the younger crowd of players, but young players tend not to have nearly £300 in their pocket money – so the sub-£100 alternatives could be a real hit for Nike.
As for the Vapor and Superfly level football boots, they could sell well as a really expensive festive gift, but we're not sure how many pairs will be bought after December has been and gone.
But that's just what we think – We want your opinion!
Do you think Nike have a winner on their hands with this much build-up?
Tell us in the comments below!