We've all become accustomed to some of the most brightly coloured football boots ever over the past year or so, so it's interesting to find out more about the Nike mindset going in to season 2009 / 2010.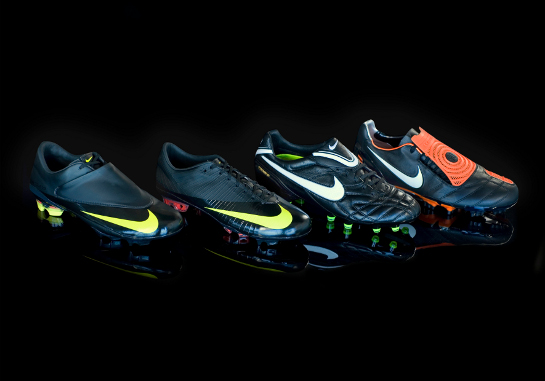 The Nike Black Pack
The more observant amongst you (and has anyone met a football boot fan who isn't observant?) will have noticed that there is a theme running through Nike's four current premier football boots including the new Superfly and Vapor V. Put simply, it's black.
A Nike executive has confirmed to Footy Boots that it's the company's wish to have all of their sponsored professionals playing in black based boots for the new season. Additionally, it seems as if that policy will remain in place for a few months at least.
Nike Total 90 Laser II in Black / White / Total Orange
This 'return to basics', if it can be termed as such bearing in mind some of the technology we are talking about here, will doubtless please the traditionalists, though fans of the Vapor IV Berry, v1.08 Pink or the multi-coloured original Valde Pro might not be so enamoured!
Nike Tiempo III in Black / White / Volt
However, it's a concept that certainly gets the Footy Boots seal of approval, particularly as its given us a chance to show you even more of the classy black football boots / black background promotional shots that Nike have created. You have to admit, Nike fan or not, that they do look pretty amazing.
Nike Mercurial Vapor Superfly in Black / Voltage Yellow
So, what do you think? Is the Nike 'Black Pack' a good thing? Do let us know by commenting below.