Not content with unveiling the brand new Total 90 Laser III, Nike released two brand new colourways for the Mercurial Superfly.
Both will surely add to the Superfly's popularity being Yellow / Black / Gold and White / Pink Flash / Black. They hit the shelves on 7th January 2010 at £225.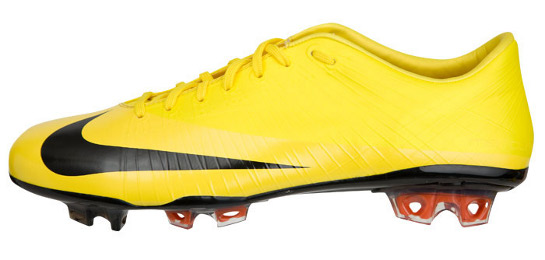 Yellow & Black Nike Mercurial Superfly
The early problems with the Superfly have long since been forgotten, particularly with Cristiano Ronaldo championing the boots at glamour club Real Madrid. Indeed with the likes of Drogba, Fabiano and Ibrahimovic also on the Superfly cast list, the lightweight speed boot has proven itself to be a great performer at the very top level.
White, Black, Pink Nike Mercurial Superfly
Nike Mercurial Vapor Superfly Technology:
Engineered Flywire Thread is positioned to meet the needs of the fastest players, providing optimal support precisely where the foot needs it.
Composite Upper combines five ultra thin layers that encase the Flywire threads to create a finely tuned shell that functions in harmony with the foot.
Re-worked Teijin Synthetic Skin exterior surface to ensure the best possible fit and feel.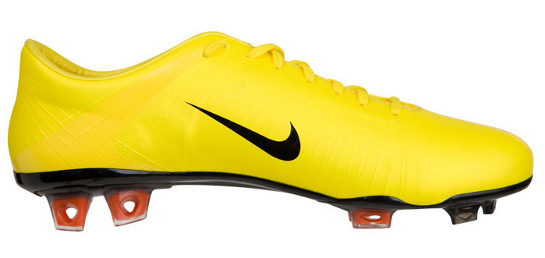 Flywire, Composite Upper and Teijin Skin combine to create Nike's thinnest football upper to date and provide a uncompromising foot to boot, boot to ball fit.
Lightweight Traction Sole Plates incorporate a higher density inner structure providing the necessary integrity yet allowing the extraction of unnecessary weight from the centre of the studs. These super-light, super-strong direct injected dual-density molded studs deliver optimal traction.
7-layer carbon composite outsole shaves off weight while delivering maximum resilience, strength and flexibility.
Minimal Internal Heel Counter provides added integrity in the heel for ultra explosive players.
One-piece Seamless Heel Pod Liner offers added comfort and fit.
Colourways: Yellow / Black / Gold and White & Pink Flash / Black
Weight: 185g
UK Size: 6 – 12
Price: £224.99