We know that we've spoiled you all with news of all the new boots and colourways that debuted in March.
And being honest, we've been left with our heads spinning – New boots from Umbro, Reebok and Nike are out this month and Nike & Puma have hammered out a whole host of new colourways. So we thought that we'd put together a quick guide to all the boots that are out today.
Adidas
Adidas announced their Champions League range of football boots waaaay back in January, and the Pro's have been wearing them since the start of the new year, but believe it or not, these special edition Predator_X, Adipure III and f50i only went on sale on the 25th of March!
They're now available, along with their full compliment of sibling boots including the AdiNova III, f30i and Absolion_X:
Nike
Nike have hit their stride in March – after announcing the Superfly II at the end of February, they went crazy with not only 2 new boots, but new colourways for their existing boots!
The new Superfly and the Vapor VI, available along with their sibling boots – the Miracle, Glide & Victory are now available
Nike also released the new colourways for their popular T90 Laser III range today – along with the Shoot and Stike they are available
Puma
Puma also went on a roll with new colourways throughout March – releasing some very tasty black/blue combo's for their v1.10 and v1.10 KL. Also up for release was the amazing new Yellow/Black PowerCat 1.10!
In addition to those, Puma also furthered it's Unity initiative as the World Cup draws ever-closer with this amazing Unity King XL's!
For Puma Football Boots look:
Reebok
Right at the end of March, Reebok chose to honor their most decorated and well respected player – Ryan Giggs.
The result was these stunning champagne-gold boots, known as the RG800 Pro LE. Only 800 pairs of these football boots were made, so if you want to get your hands on them:
Umbro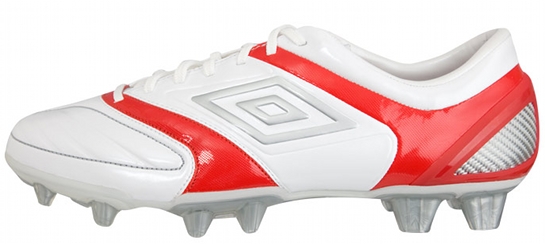 Just the one boot this month from Umbro – after revealing it towards the start of March and then beginning one of the most bizarre advertising campaigns for a pair of football boots that we have ever seen, you can now get your hands on a pair of Umbro Stealth Pro's!
Check them out here for the UK
That's all that's out right now, but later in the month we've got huge releases from Lotto & Mizuno, who are hoping to scrap for some bigger market share with their key World Cup boots.
Receive exclusive content and the latest football boot news. Just click onto Facebook or Twitter.com/Footy_Boots to join the leading community for footballers who care for what they wear!