Just when we were complaining that Nike haven't launched any new colourways in a while – 2 come at once!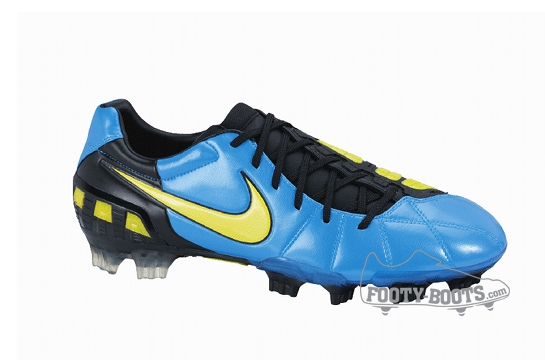 For the T90 Laser III, is this incredible Neptune Blue/Vibrant Yellow/Black colourway.
We've not seen such a bright blue used as the main colour for a football boot in a long while, and it's certainly eye-catching!
Coupled with the Yellow in the silicon pods, we think this T90 Laser III kind of makes it look like a toy -not in a bad way though, if there's a boot that would look better in the bright summer sunshine we're yet to see it!
We know that the Laser III is a quality boot thanks to our extensive wear-testing, so we expect plenty of take up on this, especially from players at teams like Chelsea and Inter Milan
Also, we'd put money on Rooney already earmarked these football boots to match his Manchester United away kit perfectly!
Thanks to Nike for the excellent images!
The new'  Neptune Blue/Vibrant Yellow/Black T90 Laser III will be worn for the first time this weekend, and available at retail from the 1st of April 2010
What do you think of this new colourway? Stunning or would you rather Nike brought out some more 'serious' colours?
Follow us on Twitter where we'll be posting more images of the boot in action over the weekend!