Samir Nasri is the latest in the growing number of top-level players to be snapped training in adidas' top-secret upcoming football boots, the adidas Predator D5.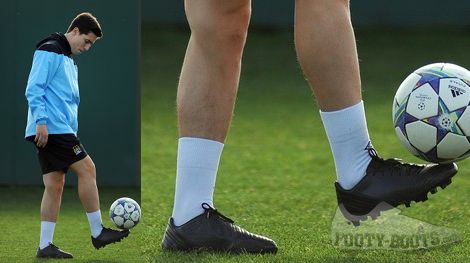 The nifty Manchester City midfielder took to training with the Blues ahead of the Champions League match against Villareal on Wednesday wearing a protoype of the new adidas Predator D5.
Much like Ballack, Kaka and Nani before him, French international Nasri's football boots have been completely blacked-out, so there's not a lot we can glean from these photos alone.
However, in comparison to previous sightings, there's much more detail visible across the top and bottom of these mysterious football boots, giving us plenty to discuss.
The upper definitely looks like a synthetic, meaning that adidas Predator D5 are likely set to best the adiPower's record as the lightest in the Predator lineage, and the forefoot is covered in a more low-profile series of zones; completely different to the dual-density Predator elements we see on the current adiPower.
Also visible, again, is the pod on the sole of the adidas Predator D5, which certainly makes us almost 100% sure that these new football boots are going to be miCoach compatible.
What do you think to this latest look at the adidas Predator D5? Anything new sticking out that you think is worth talking about?
Let us know in the comments!