After breaking the news this weekend of Nani bagging a goal for Manchester United in the adidas F50 adiZero, we've been in touch with some of our friends in the industry to get the official word on these sensational football boots swaps!
The official word from adidas is that adidas have made no announcements about either player, and neither has officially put pen-to-paper with the German sports giant. Which means that both are wearing the adidas F50 adiZero of their own volition.
Due to the high rate of boot-swapping that both players have shown, we can only guess that both are currently undergoing contract negotiations at the moment and are taking the opportunity to try out as many different football boots as possible!
Dani Alves has been chopping and changing his boots like no-one's business of late, but we were really surprised to see him in the Messi Metallic Gold adiZero at the weekend!
Given that Alves and Messi are very close in terms of height (5'8 and 5'7 respectively), we might even speculate that Alves is a similar shoe-size to Messi and the Brazilian defender 'borrowed' a pair before kick-off at the weekend!
As for Nani, we've been keeping a close eye on the Manchester United Training camp ahead of their Champions League game tonight, and we can report that the Portuguese winger is still wearing the White/Black/Radiant Pink version of adidas ultra-light football boots.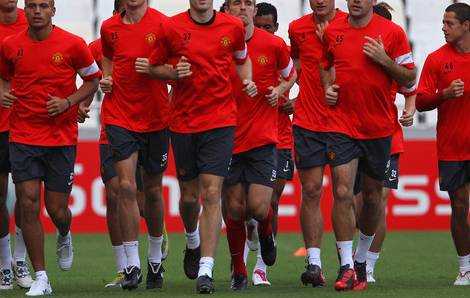 So there you have it, the official word is that neither player has officially switched to the adidas F50 adiZero, but we'll be the first to tell you if either of them does!